Abandoned in a forgotten field, a decrepit barn in the woods could easily audition for the role of a fairy-tale woodland witch's home. But Brad Wroblewski surveys the faded and feeble structure as a prize.
One man's trash, another man's treasure has never rung more true.
Urban wood lumber is a resource composed of salvaged wood scraps repurposed as a renewable and plentiful canvas for furniture, craft and design. For years, Wroblewski has breathed new life into old wood with his business Knoched VA, but this year he hopes to collaborate with a network of local environmental and artisanal workers to bridge beauty and utility with a low carbon footprint.
"With farm to table as far as food goes, we consider this tree to table," he said. "These aren't just trees cut down for profit. They're trees coming down one way or another, and we're using them to tell a story."
Wroblewski worked for years in construction and first combined his labor experience with his untapped fascination for reclaimed wood nine years ago to construct a game table for hosting friends. He said he never imagined the hobby to amount into a business until the recommendation of a friend led him to begin Knoched VA.
"I've always enjoyed being artistic and building and when I first moved to Harrisonburg 11 years ago, you'd see local artists put work in restaurants and in stores, and that has grown as downtown Harrisonburg has grown. And I always said when I first moved here, 'I want to put some of my artwork into one of those places,'" Wroblewski said.
If you are a craft beer fan, chances are you are already familiar with Wroblewski's work. His first commercial project was the high table tops inside Three Notch'd Valley Collab House that he crafted from reclaimed barn wood.
Last year, he helped grow Rocktown Urban Wood and further immersed himself in the world of renewable lumber by connecting with Harrisonburg Green Space manager Jeremy Harold and Virginia Urban Wood Program Coordinator Joe Lehnen to use fresh-cut wood such as maple, walnut and cherry from city parks.
Since then, Wroblewski has left Rocktown Urban Wood to focus on Knoched VA, but continues to partner with city and state departments and spends most of his days working alongside Sean Black of Black Forest Sawmill on woodworking projects.
"We like to collaborate with other people as much as we can and really enjoy meeting the different clients, so it's just kind of an open book right now. We're not really trying to suffocate any creativity and just let it go, see what happens," Wroblewski said.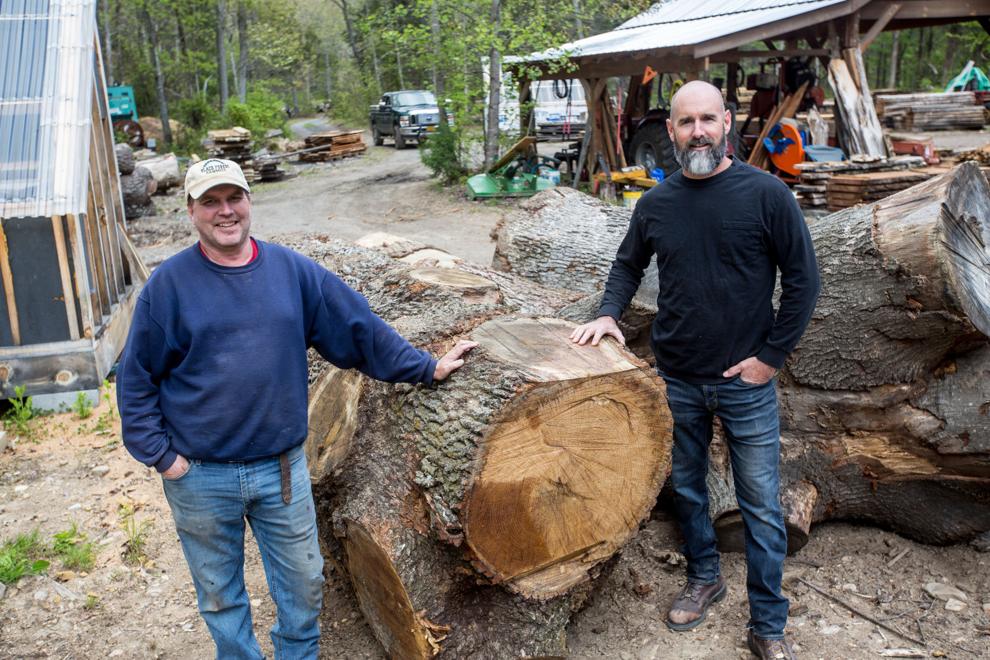 Harrisonburg is among several localities with a surplus in urban wood due to emerald ash borers, an invasive beetle that feast on ash tree species until the weakened tree is tapped of all life and collapses. Parks and Recreation first confirmed the pest's arrival to Harrisonburg in May 2017. Last year, more than 300 trees were removed from city parks, according to a press release from Harold.
Harrisonburg's Department of Public Works has completed nine projects using local wood since August 2018 including conference tables for Harrisonburg Downtown Renaissance and Cecil F. Gilkerson Community Activities Center made from ash trees. Most recently, a fallen ash tree was repurposed in December as a new countertop for Heritage Oaks Golf Course by Stoneybrook Cabinetry.
Water Street beautification projects using urban wood began last summer in the alleyway between Beyond and Finnigan's Cove with wooden trash cans and planters housing maple tree saplings. In April, the city applied for a Virginia beautification grant, 30 in 30 Green Grant, to hire Wroblewski this summer in continuing Water Street updates by using locally sourced white oak from a farm for benches and more planter boxes along the parking deck.
"The whole point is to not throw this wood away and let it go to the landfills. It's just to repurpose it and use it locally. The big push and why our program was created was because of the ash and all the dead ash from the emerald ash borer that we were accumulating, but just like the right tree at the right place, there's the right wood for the right place," Harold said. "We want to really create the program, keep the thought alive and encourage citizens in the city of Harrisonburg to use local wood."
Knoched VA is also one of three companies invited to bid for a project creating benches along a shared-use path at the Northend Greenway around Liberty Street to Mount Clinton Pike.
Wroblewski said switching from reclaimed barn wood to sourcing fresh-cut lumber not only is cheaper and better for the environment, but it also results in eccentric designs he lets inspire each product.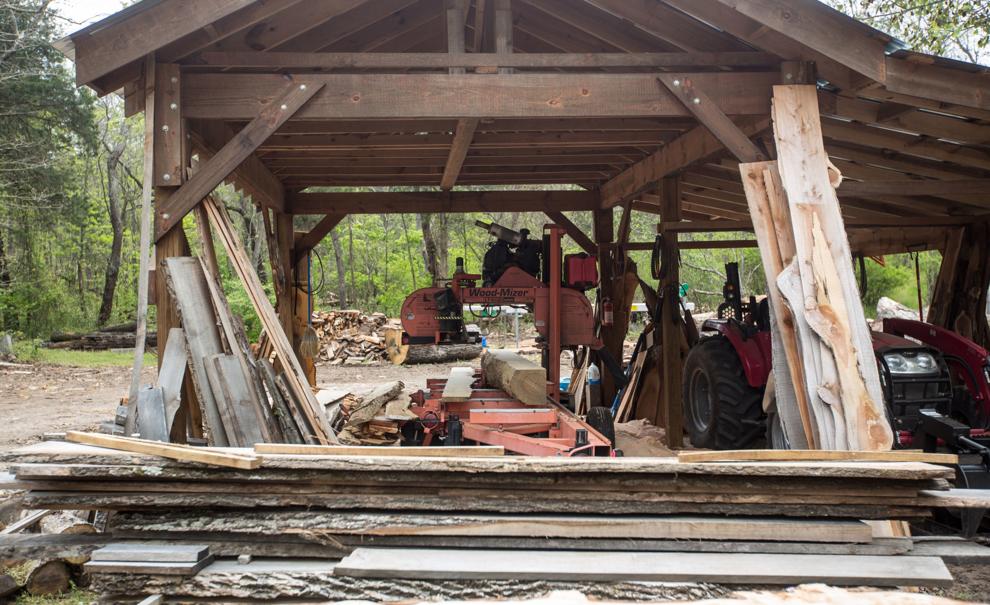 "This stuff now is fascinating because the lumber that we're using, I really look for the crazy pieces and the wonky pieces that are out there and you let nature design a piece for you. Before, I had these boxed barn wood pieces that I would make, and now seeing the curves and the craziness in some of the trees, I'll just leave those pieces in there," he said. "We get disconnected from nature very easily in our society, and I think if you can bring nature inside your house to the best of your ability, that's what people are kind of craving right now."
While Black and Wroblewski were worried about the COVID-19 pandemic's impact on business, besides a week-long market hiccup in March, Wroblewski said people seem more interested now than ever to know the source of their products and bring beauty into their homes.
"It's not like the 2008 recession in that sense where I believe people are hopeful in that we can turn around and go back to work and things will go back to normal'ish. They're not sitting on money as much as they were back then," he said. "During the coronavirus, people want to know where their food is coming from or they want to know where their furniture comes from. They want to know where anything is coming from, their clothing."
Two thousand people like Knoched VA on Facebook, and one client in Keezletown said she cannot get enough of Wroblewski's woodwork.
"If you are looking for beautifully made, rustic furniture, then look no further. I can't say enough great things about all the pieces of furniture that we ordered and received," Theresa Giarrusso Gerlando posted in a Facebook review.
Since leaving Rocktown Urban Wood, Wroblewski has turned to collaborate with other urban woodworkers in the area such as Black, Brittany Clem and Mike Hott of Family Tree Woodcrafters in McGaheysville.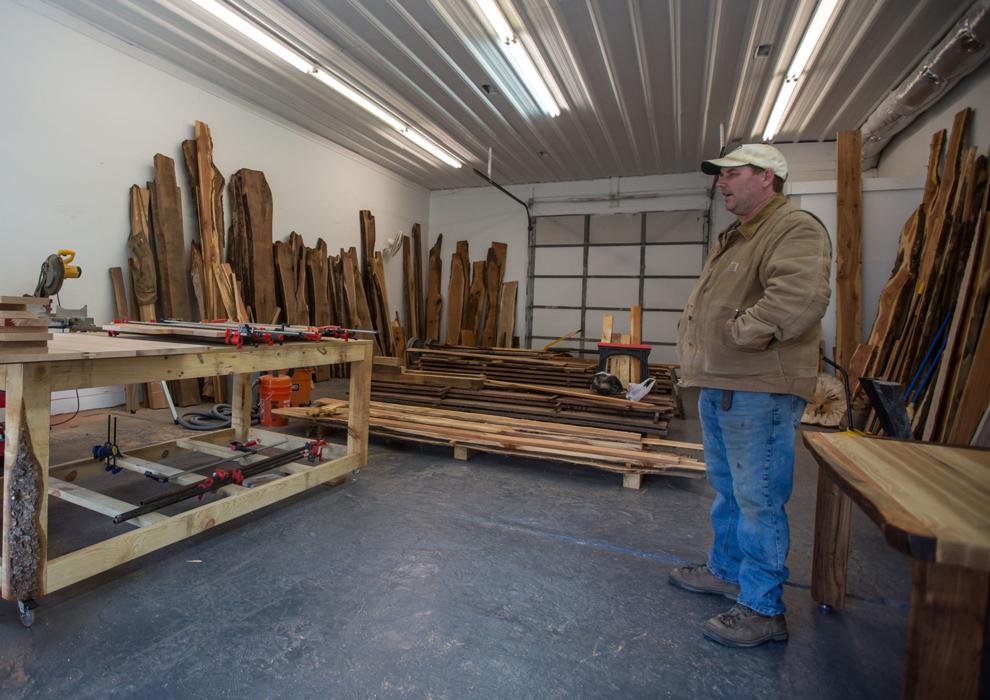 Molly Suzanne, Wroblewski's fiance, is an independent artist who is publishing a collection of coloring books that highlight native and holistic wildlife. For the past year, she has collaborated with him on projects adding acrylic illustrations of native foliage to finished wood pieces. She said they share a passion for nature and exhibiting the beauty of the Shenandoah Valley, and each product is a passion project.
"We obviously love incorporating anything local. All the wood is local. A lot of the colors I use in my acrylic comes out in the types of wood as well, it has the same tones. A cherry print has the same tones as a cherry wood, it has a red tone to it. And we work well together because we love each other, too," Suzanne said. "What we're both really trying to get back to is doing as many things locally sourced in the community as possible. It feels good to know all this wood is from our backyard."
Wroblewski said the most important factor in his work is maintaining the emotional integrity of the wood and allowing nature to take over throughout the process of repurposing lumber, so every piece is not only inspired and directed by nature and the final product is more than just a hunk of furniture.
"Sometimes that's an old barn wood with a story or it's an old tree that their grandfather planted 110 years ago that came down in a storm that we can recycle and reuse. We can make a farm table for them," he said.