Gooey caramel eggs and fluffy marshmallow critters dominate the nostalgic Easter candy game, but there's something to be said about biting into a fresh, pillowy pastry made locally.
Level up your holiday sweet tooth with handmade holiday treats from the small bakeries and businesses in Harrisonburg and Rockingham County that are sure to satisfy the family.
Bittersweet Bakery on Wolfe Street has mastered the sweet and savory world of pastries. This week, goat cheese and asparagus brioche, coconut bird's nest macaroons and Easter bread flavored with anise seeds are among the flavorful treats available to ring in the holiday.
Not one to miss an occasion, the staff at Mr. J's Bagels and Deli are whipping up a selection of pastel painted Easter egg bagels and carrot cake muffins.
El Paisano Bakery in Harrisonburg has upgraded its donut case to feature Easter decorations, but the tres leches cake is a must for after Easter dinner.
In Broadway, The Country Cafe & Bakery at J&B's Country Store has two vendors making peanut butter, coconut and chocolate-filled eggs. Another vendor is making mini chocolate piñatas filled with Easter candies. The bakery will also have a variety of Easter-themed cupcakes, cookies and cake slices.
Sugar & Bean Cafe, a longtime staple at the Harrisonburg Farmer's Market, recently celebrated its first full year in business at its Bridgewater brick and mortar. To celebrate the Easter season, the baking company has house-made Easter baskets available for patrons to build with a selection of treats. Options include meringue mini pies, bourbon truffles and chocolate-covered eggs.
Cafe owner Heather Benin's Easter favorites are the chocolate-covered eggs filled with coconut and buttercream. She said the take-home Easter basket offering was inspired by those who want the fun and flavor of the season.
"Maybe people aren't going to the store to pick out treats as much," Benin said. "Our baker, Allison, is very good at celebrating the holiday, so anytime there's a holiday she's figuring out a new way to celebrate it."
Heritage Bakery and Cafe also just celebrated a birthday, turning four over the weekend. The pastry case in this downtown Harrisonburg coffee shop doesn't revolve around holidays, but customers can still find a few homages to the season, including bunny-shaped pancakes.
Cupcake Company normally offers more than 40 flavors of gourmet cupcakes. The holiday flavors this week are Easter vanilla, strawberry rose and chocolate bird's nest. Staff member Hope Vanacore said her favorite of the three was the strawberry rose, which has a vanilla base and strawberry buttercream frosting sculpted into a floral design.
"I love the rose design. It's really pretty," she said.
Crossroads Cafe in Penn Laird is best known for its catering, but the café itself is a hidden gem. This week, customers can order coconut or carrot cake, individual cheesecakes or brunch fixings including french toast casserole and build-your-own quiches.
Sunrise Market & Deli in Dayton is baking dinner rolls and coconut and red velvet cake for the occasion but will also have its usual array of cream pies and cookies.
Jason McCready, owner of Cinnamon Bear Bakery & Deli on University Boulevard, draws menu inspiration from memories of childhood. He said this year's Easter sweets are coconut cakes because it's what his grandmother used to prepare for Easter spent together with family.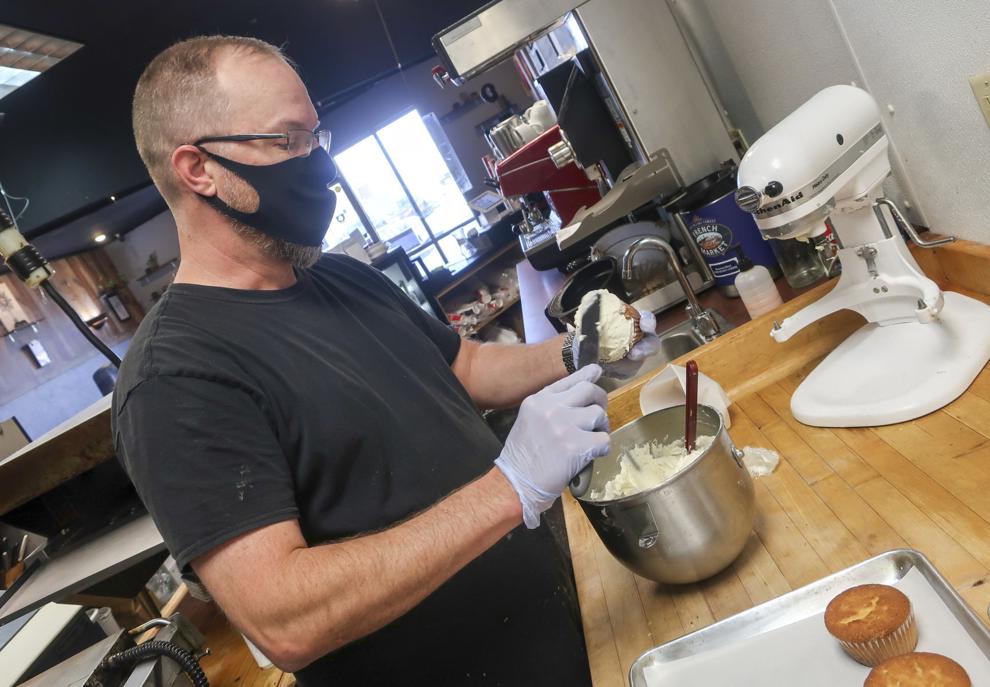 "Most of our items, we try to do items that remind people of home" McCready said. "When I grew up, it was coconut cakes for Easter."