The Bennington-Horton family had only opened its eatery five months before the pandemic struck.
"It's kind of hard to compare this past year to anything since we're new, but in regards to [business], we're happy to be serving," said Nicole Bennington.
In October 2019, the Penn Laird family opened Crossroads Cafe and Catering at 4549 Spotswood Trail in the east Rockingham community it calls home.
At the cafe, the family serves sandwiches, soup and salad while the meal preparation creates comfort food for customers. The meal prep has been the most popular slice of business as interest and rules around in-person dining limit potential for businesses such as the Bennington-Horton's.
"We're hanging in there," Bennington said.
Restaurants have been some of the hardest hit employers by the drop in consumer demand caused by the pandemic and the lockdowns from the government. Hotels also saw a marked decrease in business as travel came to a standstill in the spring of 2020.
This also presented a challenge to localities, like Rockingham County and Harrisonburg, where revenues across the bar have also been hampered by the pandemic's economic fallout.
Yet, Rockingham's revenue from the meals taxes has not been as bad as first expected, according to data provided by Patricia Davidson, finance director.
"Thankfully, the reduction in meals tax revenue was not quite as steep as I anticipated," she said in an email. "I say thankfully because it means our restaurants did better than I expected, meaning they could keep their doors open, county citizens would keep their jobs and have options for great places to eat."
The crunch also impacted the fiscal year budget for 2020 as well as 2021, according to Davidson. The fiscal year for both the city and county begins on July 1 and ends on June 30.
"I anticipated a small hit to fiscal year 2020, the budget was $1.3 million and we ended with $1.18 million in revenue. For fiscal year 2021, I originally budgeted $1.3M in revenue from meals tax, pre-pandemic, then I revised the numbers," Davidson said. "With so much uncertainty, I reduced my estimate to $800,000."
And the county is on track to receive $1.1 million in revenue from the meals tax. The meals tax rate in the county is 4%, while it is 7% in Harrisonburg.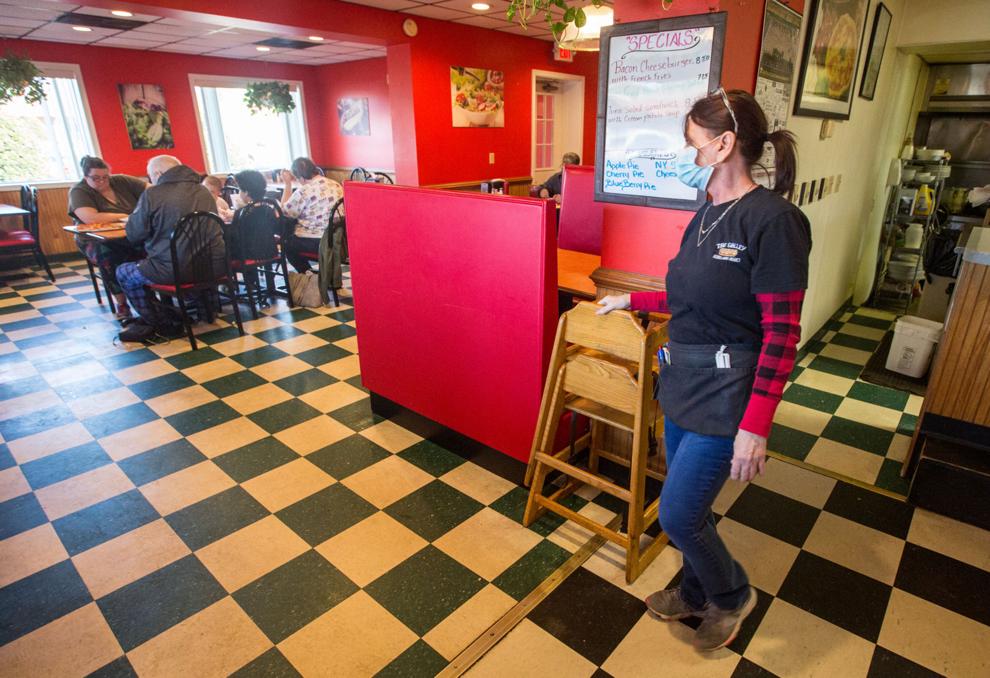 In 2019, Rockingham generated $1.2 million from its meals tax between January and November. Over the same period of time last year, the county generated about $192,000 less in meals tax.
The largest plummets were at the beginning of the pandemic, such as the drop from $122,500 in February to $69,180 in March, which bottomed out at $61,100 in April before beginning to slowly climb again in May, according to the data provided by Davidson.
In March and April 2019, the county generated $97,450 and $101,350 from the meals tax, respectively.
Rockingham County Administrator Stephen King agreed with Davidson that the less-than-expected reduction in meals revenue shows resiliency in county eateries.
"It's a reason for optimism," he said.
He said the stronger-than-expected revenues do not change the county's spending plans or priorities, which consist of many small ways to solve problems like emergency and social service staffing.
"We still have continuing growth in the need for fire and rescue expansion as the volunteer fire departments find it more difficult to get volunteers, we're having to find more paid staff," King said.
Between March and April, the first months of the pandemic, revenues from the lodging and meals tax dropped markedly. Harrisonburg saw a similar drop in the early months of the pandemic and slow return of revenues to the meal tax collections.
In March, the city collected $152,800 from the lodging tax, which dropped by roughly a third to $104,500 in April. Collections of the meals tax dropped from $1.14 million in March to $833,800 in the following month. Michael Parks, city spokesperson, said the provided data shows only when the city received the tax and the payments may not have been on a regular schedule.
In total, Harrisonburg collected $11.6 million in meals tax and $2.088 million in lodging tax during 2020.
In April 2019, the city expected to generate $14.3 million from the meals tax in 2020, according to the proposed budget for fiscal year 2019-20.
The 2018 city budget anticipated $13.4 million to be generated by the food tax and, a year later, that expectation increased to $13.8 million, according to city budget documents for fiscal year 2018-19.
City staff, including City Manager Eric Campbell, are working on an updated budget to present to City Council that reflects revenue impacts during the pandemic.
In June, City Council had to reduce the budget as the pandemic and ensuing economic turmoil took its toll on coffers.
The new budget estimated a 10% drop in meals tax revenue from $15.2 million down to $12.9 million in fiscal year 2021, according to budget documents.
The number of COVID-19 cases locally continues to trend upward.
Three county residents have been newly hospitalized with COVID-19, according to data released Friday by the Virginia Department of Health. On Thursday, VDH reported four Rockingham County residents had been newly hospitalized and another four residents had died from the virus.
Over the past seven days, an average of two county residents have been hospitalized due to COVID-19 per day — twice the rate of city residents, according to VDH.
In the county, 264 residents have been hospitalized with the virus and 68 have died out of 5,219 identified cases, according to Thursday data from VDH. In the city, 5,112 cases of the virus have been identified, with 142 hospitalizations and 57 deaths, according to VDH.
Addressing the overwhelming need for vaccinations, Page County on Friday hosted the Lord Farifax Health District's third community Point of Dispensing clinic. When the clinic cut off new arrivals at 1 p.m., vehicles were still backed up on U.S. 340 near Page County High School in the town of Shenandoah, said Dr. Colin Greene, director of the health district. Harrisonburg and Rockingham are in the Central Shenandoah Health District.
Across the area, restaurants have adapted as best as possible to changing health and customer demands, as well as state health and business regulations that continue to change as case counts rise, according to managers and owners.
"We just try to offer as much as we can to keep the doors open, people working and paying our taxes," said Vlasis Bouloubasis, manager of The Galley on South Main Street in Harrisonburg.
He said the restaurant began offering delivery at the beginning of the pandemic.
"We've been here for 21 years and hopefully we're going to be for another 21," Bouloubasis said.
Small-town restaurants, like El Charro in Bridgewater and Gobbler Grill in Broadway, pay their meals tax to the towns, according to the respective town managers.
At El Charro, workers took their dining space and restaurant and pivoted to a drive-thru system, according to Kathy Rodriguez, manager at the eatery. Takeout orders now account for 70-90% of the Mexican American restaurant's business, Rodriguez said.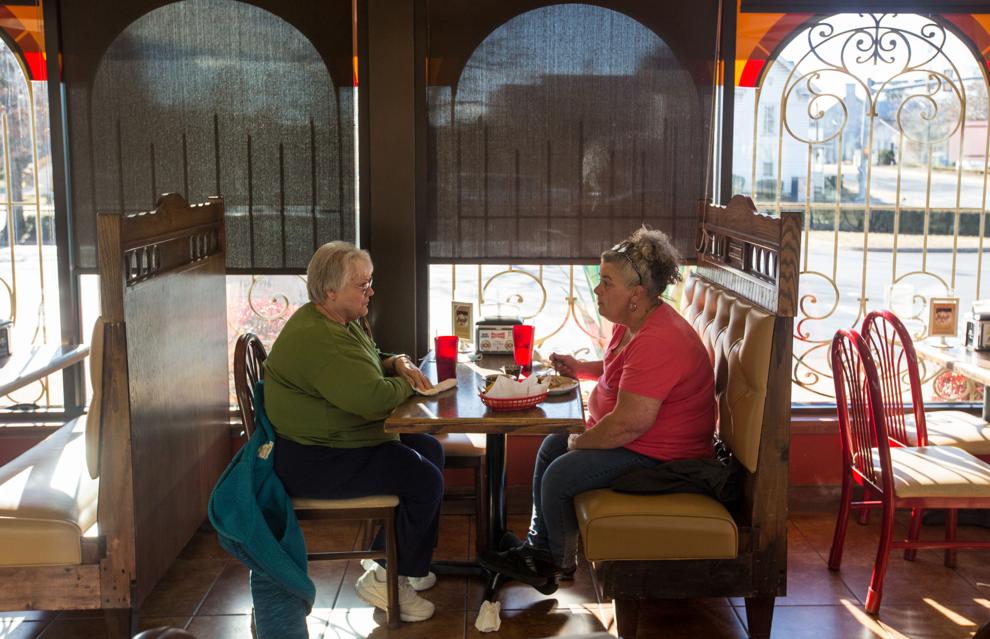 "We've never had the high volume to-go orders as we've experience now," she said Friday.
At Gobbler Grill, sales are down this year compared to last, according to owner Colby Mongold, as is common in the pandemic era.
As well, tips have increased at restaurants, even for takeout orders, according to Rodriguez, Mongold and Bouloubasis.
The food workers said the communities have stepped up to support local restaurants during the pandemic.
"The community's been really sweet and we have lots of regulars who are really supportive and that helps, too," Bennington said.
However, she said she is looking forward to spring and a brighter future of increased travel, indoor dining and baseball games at the nearby fields as the country can put the pandemic in the rear-view mirror.
"I see more traffic coming down from Massanutten and Elkton, so that's been good," Bennington said.
The Bennington-Horon family is already cooking up ideas for the future, such as seven-days-a-week breakfast service.
"We're optimistic," Bennington said.