Hair stylists yield buzzing razors between plexiglass, nail technicians paint intricate designs behind face shields. Cosmetology in the age of COVID-19 looks a little different, but the artists behind your haircut and manicure are just the same and adapting to updating regulations phase-by-phase.
Per current regulations, personal care and grooming services are accepting clients by appointment only with staggered stations and limited occupancy. Customers who opt to stay in quarantine have options to connect online or pick-up grooming packages, but local shop owners say turning on the neon open sign and greeting customers back into salons reanimates their spirits.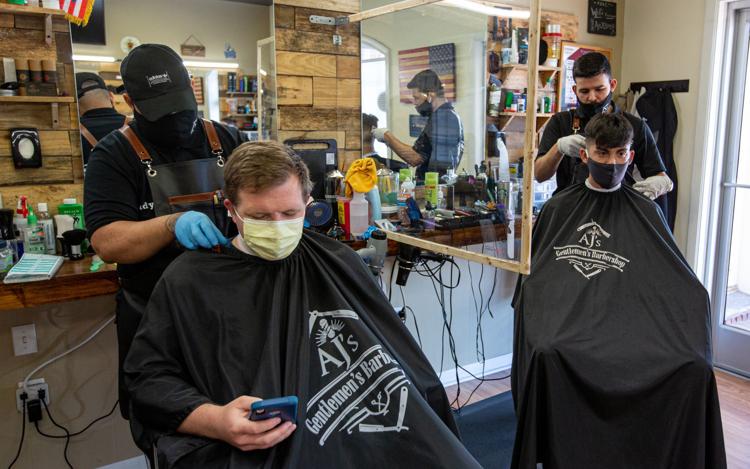 Salons and barbershops first reopened under strict guidelines on May 15 in Virginia as part of Phase I, which limited capacity to 50% occupancy, required appointments and enforced the 6-feet-apart rule. Phase II updated the distancing rule to apply to work stations rather than individuals. On Wednesday, Virginia will move into Phase III, which ends occupancy restrictions and terminates mandatory scheduling.
Cosmetic services like a haircut are more a chore than a luxury for some people, but several shops have die-hard fan bases that depend on the business being open and available for appointments.
Karina Mercado, of Harrisonburg, frequents Omar's Hairs Salon and Barbershop to get her hair length and color touched up as routine self-care and said the wait while salons were closed was miserable. Mercado said she has a go-to hairstylist, and that reputation and relationship are invaluable to her decision of going to the salon.
"I've been waiting to get my hair cut and toned for the most longest time," Mercado said. "I only go to them. Honesty, I've had bad experiences that I only trust them, I'll wait for them. I don't go to anyone else."
Cheryl Shutzer is a local nurse who makes a point to return to Tangle's Day Spa every eight weeks for a haircut. Because her appointment in April was canceled due to the pandemic, Shutzer said she is eager to get back in the salon chair to have her 'do refreshed.
"I am very excited to be around people and getting my haircut, finally," she said. "I am excited to be able to chat with my stylist and get this haircut. It is too long for my liking."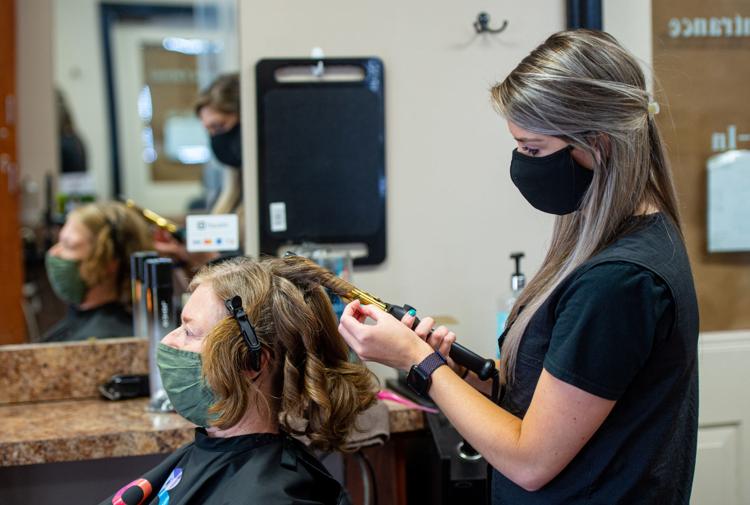 Shop Prep
While closed, several shops stayed in touch with clients to help guide them through upkeep of hair and nails until business could reopen.
Tangle's Day Spa offered take-home hair kits during the shutdown for people to do root touch-ups, which brought in some money for employees.
As a full-time receptionist at Tangle's, Carrie Moyers said she no longer gets much interaction with clients, her favorite part of the job, but seeing customers leave with a new air of confidence after months without being serviced is rewarding.
"They felt incomplete, embarrassed to go out in public because their hair wasn't done," Moyers said about complaints from customers during the shutdown.
The day spa continues to offer take-home kits and has stopped offering blow drying to reduce the spread of germs, but Moyers said the service may return next week when Virginia moves into Phase III. The most difficult part of returning to business in the salon was recovering from lost funds to restock shelves.
"There was no income for salons as a business, so we ran out of products and some lines like shampoo and conditioner, so we had to get started back up and make some money before we could make money for retail," she said.
Safety precautions such as wearing face masks and booking appointments are required at all personal grooming locations, but a few salons have gone above guidelines to instill a sense of safety in the shop.
David Huynh manages Amazing Nails Spa, one of the city's first nail salons to return to business following Gov. Ralph Northam's OK to reopen. Huynh said several clients rushed back in to get acrylics touched up and for routine manicures and pedicures, but the business maintained communication while closed to assist customers in comfortable removal of outgrown nails and now natural nails are growing in popularity. At the shop, plastic guards help distance customers from employees and all facial waxing services except eyebrows are currently unavailable.
Huynh said restrictions on operations have dealt a hard financial blow on business, but opening early attracted several out-of-area customers to come in and it has become steady because people look to nail care as a mood booster.
"We want to come back to the community, so we can help people who love to get their beauty done, but compared to what we had last year it's totally different. We're making less and losing a lot of money," he said. "I got a lot of clients who said they missed seeing their nails beautiful and some say they've been depressed staying home, so it's just like it's something they can do for themselves to help them stay home for the quarantine."
Abdullah Jalal, owner of AJ's Gentlemen's Barber Shop, put up plexiglass upon reopening between each station, which he said is a necessary trade of aesthetics for security.
While trimming hair on top of heads is back in full swing, Jalal said beards are incredibly difficult and sometimes impossible to trim.
"Every time I hit the mask line along the mouth, it clips it and you have to provide masks for the customers," he said. "The first three weeks we were crazy busy, slammed. The weeks after, it got a little bit slower because everyone got a haircut already, but now it's picking up to our regular, slow. We're staying steady but there's a lot of guests who don't come out because they're scared of the virus because, obviously, the virus is still around."
Fredy Campana Estela has been cutting hair designs and sharp edges at AJ's since it opened and said he is thrilled to be back in the shop seeing customers smile, walking away with a new look they love.
"I would describe my relationship with the clients as family. We have become the barbershop where everybody knows your name," Estela said. "We are there for our clients through the hard times and easy times. And to me that's family."