Dating back to the fourth millennium B.C., people have chosen to paint their skin with tattooed words and designs for various reasons, or sometimes for no reason at all beyond the fascination of living art.
For two months, tattoo shops were forced to shut their doors, but Friday brought a gentle buzz humming through the city and county as ink was allowed to flow from needle to human canvas once again.
Virginia tattoo studios closed shop on March 24 due to the COVID-19 pandemic and were permitted to reopen the doors Friday with several service restrictions in an effort to steadily restimulate income, and several local shops were poised and ready to provide their services once again.
"The governor has laid down new restrictions and we're not only going to take our own health and well-being seriously, but the public's well-being serious," said Nick Swartz, owner of Alley Cat Tattoo. "The public might want to make it crazy, but we just have to chill out."
Gov. Ralph Northam's strategy mandates that tattoo shops operate at 50% capacity, provide services by appointment only, setup 6-feet between stations, stagger appointments for disinfecting work stations, perform routine disinfection every hour and maintain contact information for all clients received.
Harrisonburg shops Painted Lady Tattoos and Piercings, Dreamland Tattoo and Artistically Inklined are among the parlors open and operating at regular business hours but mandating all customers and artists wear masks during appointments, as per Phase One guidelines.
In addition to the rules set by Phase One for personal care and grooming services, several businesses have taken it upon themselves to adopt additional safety practices.
Alley Cat is only allowing eight people in the building at one time: three tattooers, each with one client, and one client for the on-staff piercer, and providing face masks for customers who arrive without proper face protection. Painted Lady is checking each individual's temperature with an infrared, touchless thermometer upon arrival. Artistically Inklined is allowing one guest per customer, but the additional company must abide by the 6-foot rule. At Turtle Style Tattoo Company in Broadway, artists are scheduling one hour between appointments for sterilization of stations and high-contact zones.
Swartz said the shop has not seen an upswing in appointment cancellations, but expects some people may not feel comfortable going to get a tattoo during the pandemic.
"This is not something any of us expected or any of us knew how to face. You have to take care of your priorities first. We don't want someone to overextend themselves to get a tattoo. We have families that we want to feed also, but we understand if someone needs to postpone their appointment or cancels," he said. "There's really no wrong decisions in this because it's new for everyone, so we're all sort of feeling it out and seeing what's best for us, individually."
Before tattoo shops were shut down, Erin Kvande was halfway through having a sleeve finished. Since late February, she said a section of her arm looks like an unfinished coloring book with black lines waiting to be enlivened by color and shading. While Kvande plans to return to Alley Cat for follow-up appointments within a few weeks, she said she is slightly worried and cautious about returning but has not seen the same sentiments from all patrons.
"I don't have any qualms about them opening, but for my own personal reasons, I'm avoiding everywhere," she said. "I have seen other comments on past posts 'cause some customers were impatient and they thought the tattoo parlor was being silly and that the government mandate was a hoax. I've kind of seen the gamut of responses. I've seen supportive posts and posts of people being critical of them opening. I think there's going to be a mix."
In a business that involves open wounds and piercing the skin with foreign objects, sanitation has always been heavily regulated by state departments. Kvande said she feels comfortable returning to Alley Cat within a few weeks to finish her tattoo because the artists there have always practiced transparent cleanliness, but she does not feel the same for all places and warns people to have caution and be patient.
"I'm very familiar with Alley Cat. I've been going there a while to have my work done, and they've always been very clean and very diligent with their hygiene practices, so with that particular shop I would say I'd be very comfortable; but I've been to other tattoo shops in the past that aren't necessarily as clean as Alley Cat, so I definitely wouldn't go to those ones," she said.
Steel Heart Tattoo is a one-man shop in downtown Harrisonburg that has opted to remain closed for the foreseeable future. Jay Ripley, owner and tattooist, closed March 18, one week before the statewide shutdown. Because Ripley made the decision to close when infection rates were lower than the current situation, he said he plans to remain closed, at least until his funding from the government Payroll Protection Payment (PPP) loan runs out.
"When I chose to close, the numbers of growing cases and current cases were much lower than they are now, and the way they were heading was what made me want to close, so it seems weird to reopen with those stats being worse than they were then," he said. "[PPP] covers all my expenses that would be from the beginning of April to the end of May, and I thought it would be worthwhile to utilize that to play my part in having less interactions with people in general. If I can afford it, why not do that."
After several months of Water Street being closed off and limiting exposure to new clients while construction was underway, Ripley said the pandemic comes at a difficult time and he feels he is starting from scratch, but he plans to stick to the cautious side for as long as he can.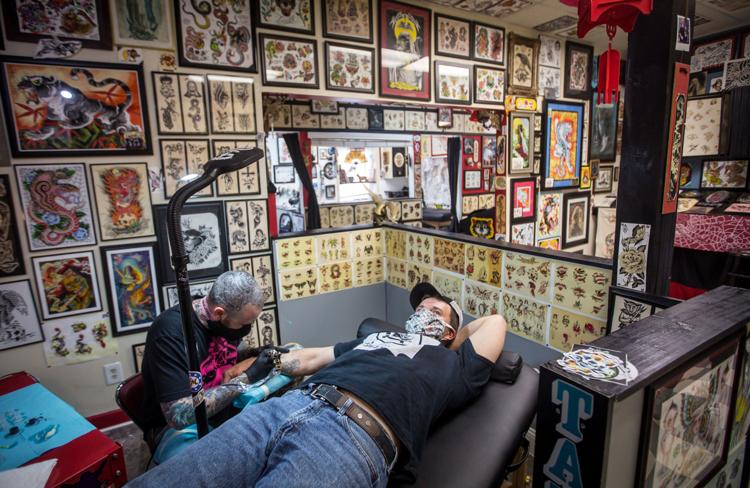 Swartz said opening back up is not meant to be reckless, it's a way for the workers to take back their livelihood and return to a steady source of income, so the shop is doing everything it can to safely provide services for its customers.
"You can be in contact responsibly, and that's what we plan on doing, and you can face these things in a way that is logical and professional," he said. "We don't want to risk our safety, we don't want to risk the safety of the public. We want to make sure we can move forward as smoothly and as intelligently we possibly can. We're doing what we know we can do to take precaution."