Sadie LeClair, 20, was teaching at Pleasant Valley Elementary School in Harrisonburg and studying at Blue Ridge Community College when the COVID-19 pandemic hit.
In the fallout, LeClair lost her job and moved to Winchester to live with her boyfriend, yet her passion to teach and work with children had not been stifled.
LeClair continued her schooling to help fill a shortage of early child educators and caretakers — a shortage many other industries are also seeing. And a new state retraining program has aided her.
"Financial issues were pretty difficult for me last semester, so when I heard about the [Re-Employing Virginians] program, it was perfect for me," LeClair said. "It very much helped me with my financial problems during COVID."
The Re-Employing Virginians program is open to American citizens who have received unemployment benefits on or after Aug. 1 or are working part-time for under $15 an hour after losing a full-time job.
Another requirement for the program is interest in getting credit or workforce credentials in a field where workers are in high demand such as justice studies, welding, aviation repair, early childhood development and manufacturing.
The deadline to apply for the program is Monday — less than 60 business days from the program's announcement.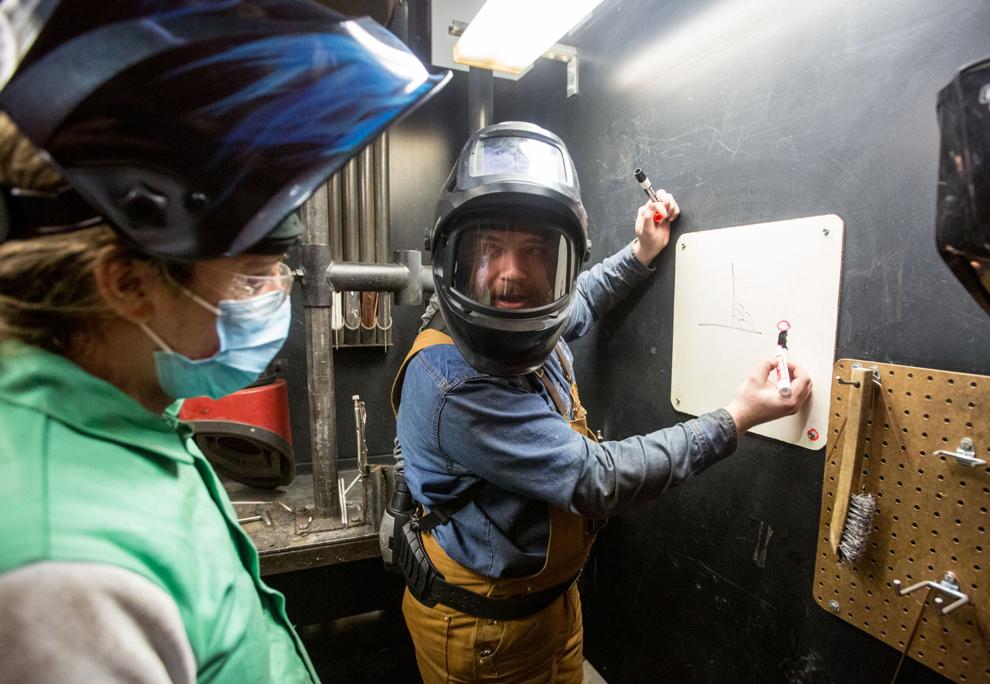 The plan was announced by Gov. Ralph Northam on Oct. 30 and $27 million was directed to support scholarships at community colleges like Blue Ridge in Weyers Cave and Lord Fairfax.
"Granted, there's no way that we're going to be able to spend that kind of money, and then that money will go back to unemployment insurance and the state," said Colleen Pendry, education and outreach specialist at Blue Ridge Community College.
BRCC has received nearly 560 inquires about the program, with about 110 people looking for industry credentials for high-demand jobs, according to Pendry. She said the college has done outreach to try to get as many eligible people as possible enrolled in the program.
Locally, 57 unemployed workers have been awarded an average of $1,850 in scholarships for spring tuition and fees as of Wednesday, according to Pendry.
She said numbers are changing daily and the full impact of the program won't be clear for another 10 to 12 days.
Across the state, 33,000 people have inquired about the program to see if they are eligible, Pendry said. Roughly $5.2 million in scholarships have been allocated to 3,092 recipients as of Wednesday, according to data provided by Jeff Kraus with Virginia's Community Colleges.
Programs like REV are the kind needed to help bridge the labor gap that skilled trades, manufacturing, public safety, IT and human services employers have been facing for years, according to Juan Flores, human resources director at Blaugh Brothers Inc., a plumbing and HVAC contracting company in Harrisonburg.
"There's a lot of ground we need to make up for people not going into trades" over previous years, he said. "Programs like [REV], in addition to everything companies do on their own and in partnership with others, is going to help us shrink that gap."
Flores said demand is only growing in employment sectors like skilled trades.
The demand for employees drives competition between employers, resulting in higher wages and increased benefits for workers, according to multiple previous interviews with economic experts and business representatives.
"I can't think of the last time we even offered even close to minimum wage," Flores said.
He said it's good to see programs like REV come out, but more needs to be done to "move the needle."
Reducing or removing barriers to job training, such as tuition costs or expanding childcare access, for in-demand professions helps businesses, workers and the economy, according to Jay Langston, executive director of the Shenandoah Valley Partnership.
"Economic prosperity flowing from better job quality, increased quality of life — the spending trickles right on down through the Valley," Langston said.
The program was jointly created by the Virginia Community College System, the Virginia Employment Commission and Northam's office, according to Pendry.
Data from the program will help the employment commission, VCCS and the Governor's office get a better idea about the needs and interests of the public looking at retraining, she said.
"I hope that this data is going to be very telling and I just think it's going to be so important not just for community colleges," Pendry said. The data "gives us a really good idea of who's out there and who's looking."
She said there is evidence people are changing careers, such as from food service to nursing.
Northam's office could not be reached for comment Thursday for Friday about expanding or extending the REV program.
LeClaire said she is graduating soon and hoping to start a job in social services and child protective services soon.
"If I did not have the REV program, I would have been left with no savings in my accounts," LeClaire said. "It's definitely upsetting when you work many hours to pay off college and you're left with nothing at the end of each semester."