DAYTON — The aroma of smoked turkey filled every inch of the Thomas House's 10,000-square-foot restaurant, making it seem as if a Thanksgiving-scented candle had been lit hours prior.
It could be a candle maker's dream to bottle up the scents of the home-cooked meal being made inside Dayton's most notable kitchen Thursday morning, but the delicious white rolls were rising for a different occasion.
In every sense of the meaning, the spirit of giving was being prepped, chopped and baked into nearly a hundred meals on Thanksgiving Day as Thomas House owners Brenda Horrell and Jack Kearney turned off the Macy's Thanksgiving Day Parade to cook hot meals for Open Doors.
"I enjoy helping people and it seems like there are more people than ever struggling," Horrell said.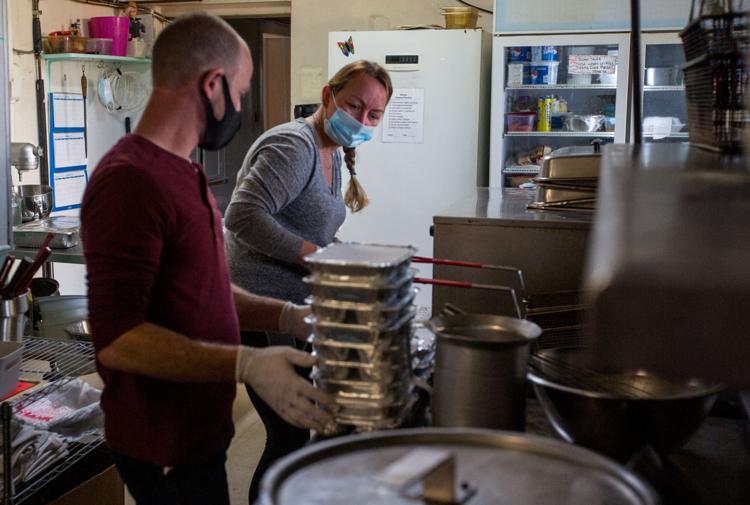 The COVID-19 pandemic has left no stone unturned, especially for members of Open Doors — a nonprofit organization that provides shelter for those experiencing homelessness in the Harrisonburg and Rockingham County area between the months of November and April.
In the past, Open Doors has rotated its shelter locations throughout the season and primarily used space offered at local churches or faith centers. In response to the COVID-19 pandemic, churches and other places of worship pulled out of the rotation, and shelter staff were forced to explore various options of how to operate this winter.
Open Doors began operating inside the former Red Front Supermarket on Nov. 5 and is slated to stay there through April.
"This is the first time we are in a single facility longer than a week," said Ashton Rawley, community engagement coordinator at Open Doors.
With a shelter location in place, the next obstacle was finding volunteers to serve meals on holidays, including Thanksgiving.
Rawley said that in previous years, a church that didn't observe a holiday would host Open Doors and serve a meal.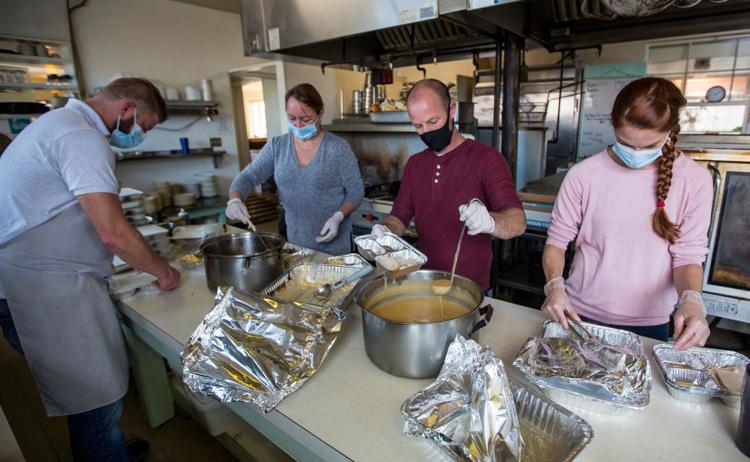 "We don't want to put anyone out in the cold, especially on major holidays," Rawley said. "A lot of our guests spend time with us because they don't have a family. We are their family."
Enter Horrell and Kearney.
Rawley said when Open Doors was operating out of James Madison University's Godwin Hall, Horrell and Kearney provided meals during a time the pandemic left many in need.
For Kearney, it was a matter of doing good things, even in a time when the restaurant was closed.
"When we shut down for COVID-19, we had people donate to us so we could donate to others," he said. "We are always in this cycle of paying something forward and paying something back."
Knowing that people in the community were getting meals from Thomas House and giving it to those at Open Doors, Horrell said she began to wonder if the nonprofit had any volunteers to serve meals on Thanksgiving.
"It's our local community shelter," Kearney said. "We are a small business and we rely on people to shop at small businesses. We try to support small businesses and this is our local charity."
With a dozen volunteers rallied up, the restaurant owners began cooking meals around 10 a.m.
On the menu was smoked turkey, creamy mashed potatoes with gravy, macaroni and cheese, green beans, white rolls and a cherry crisp.
And while the stoves were hot, Kearney and Horrell also made meals for a group of 34 people as requested by a counselor at John Wayland Elementary School.
Kearney said when all was said and done, the cooking and serving wouldn't end for another 12 hours.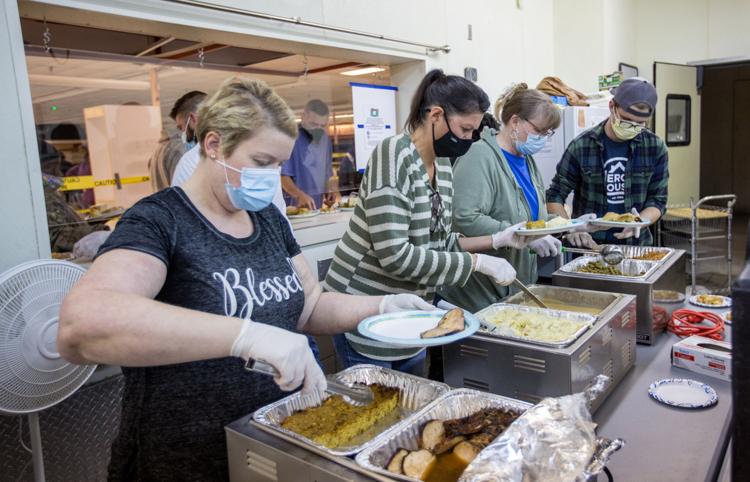 In total, more than 80 people received meals from the Thomas House — carrying on a legacy of giving left by original owner Lottie Thomas.
"We wanted to do our part to carry that legacy on," Kearney said.
On top of making meals for Open Doors, the owners also started a GoFundMe page to help continue supporting the nonprofit for weeks to come.
The page, Open Doors 2020 Fundraiser hosted by Thomas House, was created on Nov. 14 with a goal of raising $2,000. As of Thursday, $355 has been raised to benefit Open Doors.
Proceeds from the GoFundMe will help Open Door guests like Patrick Myers, who was released from prison on Friday and found his way to the shelter Monday.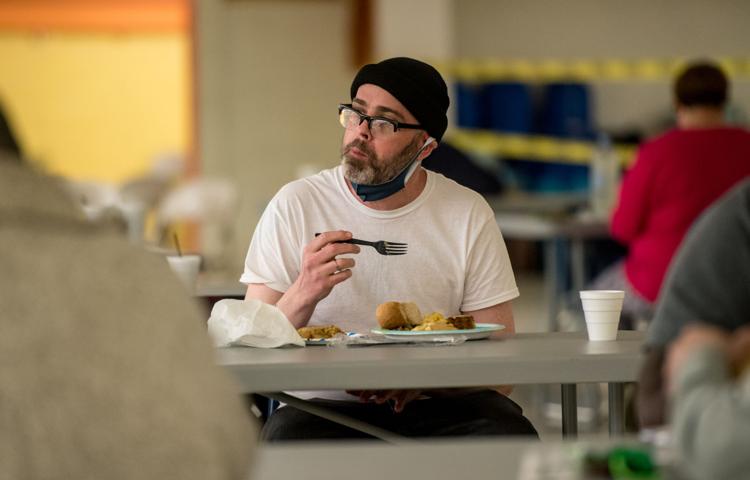 Since his release, Myers said it felt good knowing there was somewhere he could go and get a meal.
"They have taken care of me," he said. "It's a good feeling."
The last time Myers was inside Red Front was when it was still a grocery store. Now, his bed sits between outlines of what used to be aisles.
As he regains his footing, Myers said he would put his focus on getting organized and stable.
"It feels good to have that freedom back," he said.