When longtime employee Kayla Smith purchased Traditions Family Restaurant roughly two years ago, it was thriving.
The main dining room and banquet room were packed at the Mount Clinton Pike restaurant, located a few blocks from Eastern Mennonite University.
But COVID-19 has nearly destroyed the roughly 20-year-old restaurant. As long as the virus lingers, the restaurant's days might be numbered, Smith said.
"The restaurant means a whole lot to a lot of people in the community," she said. "We'd really like to see it continue, but it's a battle day to day."
The restaurant has sought grant funding from Harrisonburg and Virginia, but is still waiting to hear back.
Meanwhile, Smith's sister, Wendy Smith, started a GoFundMe page to help supplement the restaurant's income. As of Friday, the page has received about $2,200 in donations.
"COVID has really hit our area businesses very hard, especially our restaurants," Wendy Smith said. "I wanted to do something to try to help my sister in these times … to help a restaurant survive these hard times."
She said she's been eating at the restaurant since the mid-2000s. She said she'd hate to see employees lose their jobs.
"It would be devastating to our community to lose a family-style restaurant and to all the employees that work there," Wendy Smith said. "People count on that for their only employment."
Kayla Smith started at the restaurant in 2004 as a waitress. She worked her way up, learned all of the positions and later became assistant manager before purchasing the restaurant.
In March, due to COVID-related restrictions issued by the state, Smith was forced to close the restaurant for three months.
As restrictions were eased, Smith reopened, but business has been slow.
"We've been running at 50% or less of the business we had," she said. "I've revamped the business model and I try to save when I can. It's quite difficult to keep it afloat."
She said she continues to offer buffet-style dining along with to-go orders, which they will bring to customers' cars.
Smith said she'll do everything to keep the business going, not just for her, but for her employees.
"Some are single mothers," she said. "It's the only form of income for their entire family."
Maria Partlow, a single mother, has worked at the restaurant for 13 years. Starting off as a hostess, she's now the assistant manager.
She said the job has given her stability in life and allowed the flexibility to go to school.
If Traditions shuttered, she said, it would not only be a hit financially for her, but would leave many customers searching for a new home.
Partlow said many customers, often elderly, show up for the food and camaraderie frequently.
"They come in two or three times a week," she said. "It's their home away from home."
Sarah Beery, 36, of Harrisonburg, has been eating at Traditions since she was in high school. She now brings her family there.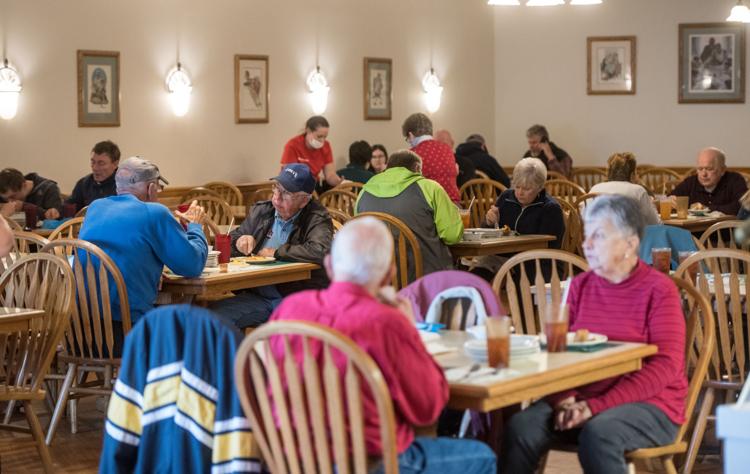 "My girls have grown up going there," said Beery, adding her go-to meal is the chili and cornbread. "We've all just become a family here."
Beery plans to set up a vendor craft show in the restaurant's banquet room in the near future to raise money for the eatery.