LINVILLE — Nestled in the rolling hills of Linville off a long gravel road resides the Showalter Guitars studio. The dusty shack has cooped chickens and guarded honeybee hives over the generations and now houses one-of-a-kind artisan guitars handcrafted by Stephen Showalter.
Looking for dreadnoughts, orchestra models, ukuleles or a style distinctly individual to the craftsman — Showalter Guitars has it all. Showalter has constructed over 70 guitars since becoming a guitar maker, and no two creations are alike. Beyond designing the instruments, he also often creates the piece starting from the very first step.
"I start from scratch, even to go as far as the log — cut the tree log and dry the wood and build it up from boards. I do everything that has anything to do with wood," Showalter said.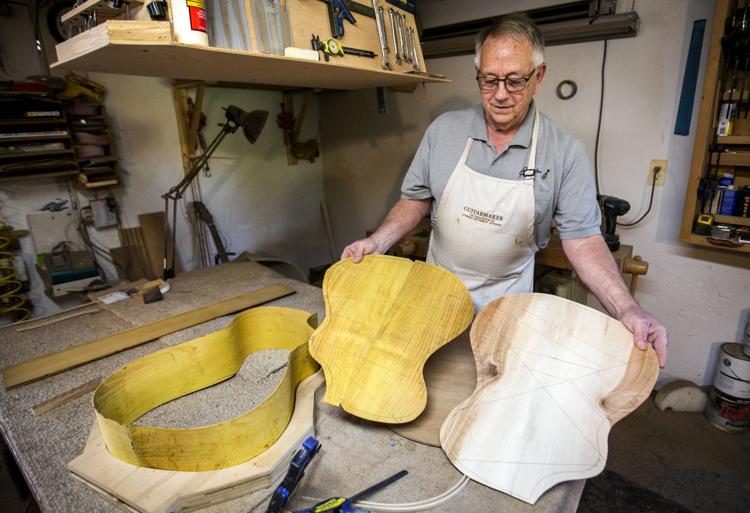 Besides the metal and mother of pearl abalone pieces that finish a guitar, Showalter has shifted to using mostly locally sourced materials, down to the bridge saddle made from cow bone. While Showalter takes custom orders and will work with imported woods, he often opts for local varieties of walnut, Osage orange and cherry.
"All these woods that I have done locally, I have been surprised at how good they are. I used to think you have to get wood from Africa and South America," he said.
Despite discovering his passion for guitar making in the 1980s, Showalter dedicated his career to the masonry business and only recently returned to his craft six years ago.
"In 1981 was when I made my first guitar, and in '84 I made my second one. Then I had to make a living, so I didn't do anymore," Showalter said. "I had a family growing up, so I didn't get into this full time until I retired six and a half years ago. You could spend thousands of dollars just getting the wood for one guitar. And so makes sense to me: use local, buy local."
On top of his full-time work at the studio, Showalter drives a school bus for Rockingham County Public Schools to manage finances while he builds his brand.
For the past five years, Showalter has attended the Rockingham County Fair with a booth to advertise his work. He said he understands that purchasing a high-caliber instrument is not an impulsive purchase people can make, but he comes out to artist and guitar shows to meet other makers and to establish a positive connection with neighbors and musicians.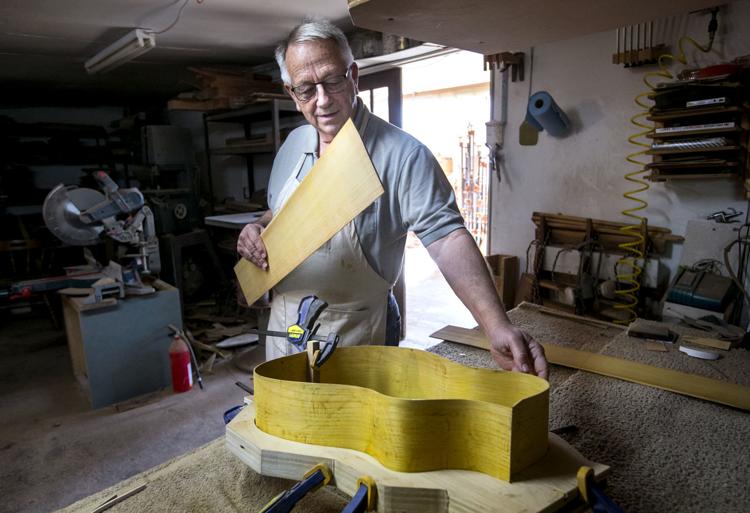 "People walking through there never buy them. It's OK because I am just trying to develop a relationship with people," Showalter said.
Kyle Ervin, a music producer and guitarist in Harrisonburg, stumbled onto Showalter Guitars at the county fair two years ago. Ervin said the custom instruments played like butter and posed a fair fight to better-known guitar brands like Martin, Fender and Takamine.
"Just the craftsmanship of his guitars — they were very unique in that they had a cutaway design. It was something that was a little bit different from some other brands because it helped the guitar resonate a lot," Ervin said. "It was just something that sounded a little bit larger than life."
Traveling for meet-and-greets at festivals led to the biggest breakthrough in Showalter's career.
Travis Layman, president of Songs for the Valley, previously worked for a construction company that had crossed paths with Showalter Masonry years ago. Now parted from their previously technical careers but still friends, Layman requested Showalter display an advertisement for Songs for the Valley's upcoming concert at his fair booth.
Top 10 Billboard contemporary Christian musician Jason Gray was invited to perform in Harrisonburg this past August by Layman's nonprofit. Gray's plane did not have enough room to bring a guitar for the show, and when Gray asked Layman for a recommendation, Layman was quick to suggest Showalter Guitars.
Gray played over half the show with Free Spirit guitar No. 54. Made from local cherry wood on the sides and Alaskan spruce for the top, the custom guitar made its debut that night, impressing both the crowd and artist, Showalter said. Now, Showalter is working to send the guitar to Gray so he can add it to his personal collection.
While that night marked the first for a nationally awarded talent to play a Showalter guitar, it certainly was not the first time a musician has jammed with one of the custom instruments. Local bluegrass musicians and faith-based performers alike often elect to play with a Showalter guitar, and Showalter has donated a piece for the past three Sing Me High Festivals.
Randy Black, guitarist for Broadway blues band Stone Rollin', met Showalter after performing at Showalter's Orchard and Greenhouse a few years ago. Having worked previously in a guitar shop for 10 years, Black is locally renown for his familiarity with quality instruments, so Showalter invited him to see the showroom and give his opinion on the guitars. Black owns guitar No. 39, one of Showalter's custom body shapes, and said it is his favorite instrument.
"I have not played any guitar — probably in my life — that I like better than one of his that I own, and I've played very expensive guitars, $10,000 guitars, and I don't think I've ever played anything I like better than the one I own," Black said. "He's doing beyond amazing work. It's hard to describe how good the quality of his instruments are to people."