Luray Mayor Barry Presgraves has made another Facebook post generating a lot of attention, this time issuing an apology.
"I posted a picture 8-1-20, I am sorry if I hurt anyone's feelings. Lesson learned. It was not my intent to hurt anyone. I took it to be humorous. SORRY," Presgraves posted Tuesday evening.
In a screenshot obtained by the Daily News-Record, the post had received more than 100 comments by 11:30 a.m. Wednesday.
Efforts to reach Presgraves Monday, Tuesday and Wednesday have been unsuccessful.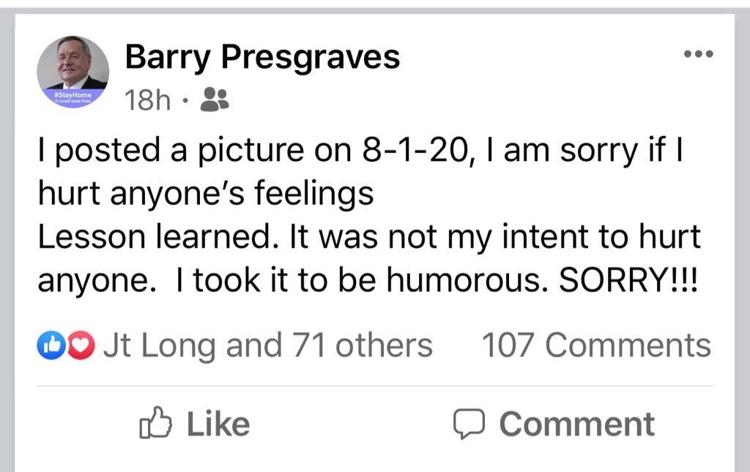 The apology comes three days after Presgraves posted on Facebook Sunday evening that "Joe Biden has just announced Aunt Jemima as his VP pick." Aunt Jemima, a breakfast brand from Quaker Oats, was retired in June after the company said the Black character's origins were "based on a racial stereotype," The Associated Press reported.
According to the AP, Biden, the presumed Democratic presidential nominee, is on the verge of choosing his running mate, who he has said will be a woman. The finalists are believed to include three Black women — California Sen. Kamala Harris, California Rep. Karen Bass and former national security adviser Susan Rice — and Massachusetts Sen. Elizabeth Warren.
Presgraves told the Page Valley News on Monday that he had seen the post last week and "thought it was funny," adding that he did not expect the reaction he has received.
The post has since been deleted, but that didn't stop Luray council member Leah Pence from condemning Presgraves and urging him to resign.
Pence posted an email sent to Presgraves Monday afternoon on Facebook saying, "The comment you posted has a type of humor that not been appropriate or funny in my lifetime or yours."
"While a resignation alone will not resolve the systemic subliminal racism that plagues our community, your resignation is imperative as we work toward ending racism in our community. You are accountable for your words and decisions as the leader of The Town of Luray and your recent actions have caused me and many citizens to lose faith and confidence in your capacity to effectively and justly serve as Mayor of The Town of Luray."
Presgraves has served as the Luray mayor since 2008 and previously served on Town Council. His term is set to expire this year, and Presgraves is not running for reelection in the November race.
Still, calls for the mayor's resignation continue to be heard, and a protest to have Presgraves removed from office is scheduled to take place Saturday at the West Luray Rec Center.
Town Manager Steven Burke told the Daily News-Record on Tuesday that unless Presgraves were to resign, there is little that can be done given that Town Council does not have the ability to fire him.
"Our town charter does not allow council to remove elected officials. … There is no ability for council to vote out someone," he said. "Citizens have the ability to petition the court to recall a member, but there is no ability for council to take action."