MOUNT JACKSON — As a wine ages, its taste and flavor tend to improve.
And while Randy Phillips' knowledge can't be bottled and stored in a cellar, his craftsmanship in winemaking has been poured into countless Virginia wineries.
Phillips got his winemaking start nearly 20 years ago, but his passion for its culture stems back to a childhood growing up in an agricultural background.
"Our family has always been in agriculture," he said. "Growing up in Florida, we were in the citrus and cattle business."
Phillips spent 30 years working for the United States Forest Service and managed a variety of national forests across the country. But as time went on, he wanted a career change and would soon find himself taking his enjoyment of wine to a new level.
"I've always loved wine, but also the agriculture behind producing it," he said. "We say in the industry that you can't make new wine without having good grapes, and that's why we ended up here."
When searching for a place to call home and start his winemaking business, Phillips said he spent four years trying to find the right place to grow grapes. During his forage, the geographical features of the Shenandoah Valley sparked an interest in him — specifically the limestone-rich soil.
"Grapes like a more neutral soil, not too acidic, and that's what these soils [here] are," he said.
After turning away from Charlottesville and Northern Virginia, Phillips settled in Mount Jackson and in 2000 started growing grapes at his new winery, Cave Ridge Vineyard.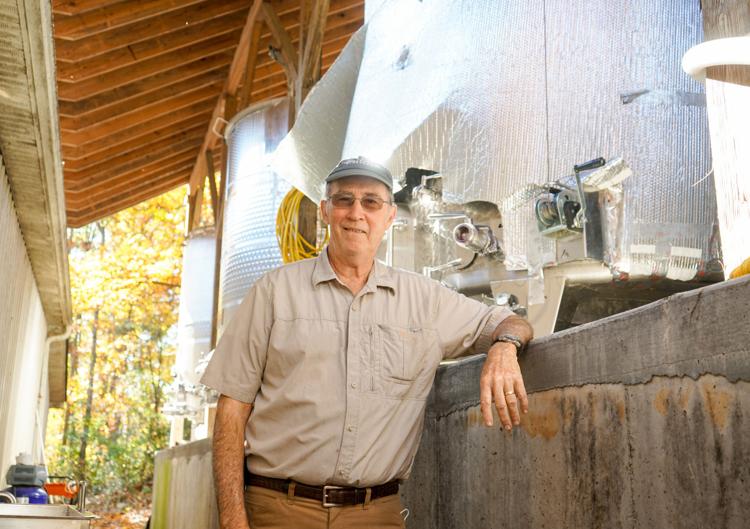 It took a few years to have a product to sell at the winery and in 2004 the doors of Cave Ridge Vineyard opened to the public.
When it comes to making wine, Phillips said it doesn't necessarily require an in-depth amount of knowledge.
"These are the basic things, winemaking is an art and science, and I think it's more art than science," he said.
There is also the need for passion and dedication.
To be a winemaker, Phillips said it's a 12-month job that starts in January when the grape vines need to be pruned.
"Each year, everything you see out there is pruned back pretty aggressively, so it takes a few months to do that. And during that time we are also bottling and assessing wines from the previous harvest," he said. "We touch, on average, each plant eight times during the growing season, and on this particular spot we have about 20,000 vines, so you can imagine touching each one of those eight times."
Between weeding and pruning, the job is very labor intensive and done almost entirely by hand.
When August approaches, it's time to assess the grapes and measure for ripeness. Phillips also measures the pH, or acidity of the grape, as well as the taste.
"With some grapes I can tell just by the flavor if it's ready to be picked or not," he said.
Once the grapes are ready to be picked, the process of harvesting typically lasts an entire month, or longer, as Phillips grows nine different varieties at the vineyard.
"They don't all ripen at the same time," he said.
Any given year the vineyard could produce between 12 to 15 different types of wine.
Some years Phillips will make a wine that he won't produce the following year, adding that for the last four to five years the wineries' focus as been on sparkling wines.
"They are naturally carbonated during the fermentation process," he said. "We are really trying to grow that side of the business."
Although Phillips has been a winemaker for 20 years, he said every year he is still learning something new. For those interested in becoming a winemaker, Phillips said there are three things to keep in mind: cost, the time it takes to bring a winery online and the amount of work that goes into it.
There is also the level of competition in Virginia that Phillips has watched develop over time.
"I think early on when Virginia was first developing its wine industry, there wasn't a lot of competition and now there is a lot of competition, which is good," he said. "I like the competition, it makes us all strive to be better."
In Virginia, there are more than 260 wineries listed on Virginia Wine's website and 32 located in the Shenandoah Valley. Of those wineries in the Valley, Phillips is a winemaker at Purple Wolf Vineyard off Cross Keys Road in Harrisonburg.
Phillips said he has helped several wineries get started with their business, adding that those in the wine industry in Virginia typically always lend a helping hand.
"Everyone is very giving of their knowledge and experiences," he said. "There are some procedures they may not share, but I think winemakers especially are very giving."
As Phillips ventures into his second decade as a winemaker, he has no plans on slowing down.
"We are in this for the long term and it requires a lot of dedication, but it's the passion that gets us up every morning and keeps us up late at night," he said.