There wasn't a clear answer for Valley brothers-in-law Allen Stoltzfus and John Fairfield as the 1980s computer screen blinked back at them.
They had an idea for a new language-learning software that could run on their computers, but it wouldn't be consumer grade. So they sealed it up, like a mummy in a tomb.
They came back years later in 1992, after technology had progressed, and brushed the dust off their program, which would come to be called Rosetta Stone.
Nearly three decades later, Rosetta Stone employed nearly 600 people in the area across three downtown Harrisonburg offices and a Rockingham County distribution center, in addition to another 1,400 employees worldwide.
The company's impact is still seen in economic development, downtown development and personal connections and careers of Harrisonburg residents.
But the success would not last. And now Rosetta Stone, a subsidiary of ILX Learning, is in the process of laying off an additional 64 employees — another round of job losses locally and farther afield that the company has taken for the last decade.
Rosetta Stone employees, past and present, have come together to try and help each other thr…
Family Business
From the beginning, the firm was like a family, both figuratively and literally.
"That was the most enjoyable part of it. We were getting talent from the community," said Fairfield, now 73, of Bridgewater. "Two of our best programmers never graduated from high school."
Allen's brother Eugene joined the firm in early the stages, and two of their sisters staffed the legal department.
"Eventually, our third sister who lived on the West Coast worked in sales in California," said Eugene Stoltzfus, now 74, of Rockingham. "So at one time, all five kids were in the company and there were nephews and nieces and other friends and people from the community."
Between 1992 and 2002, Rosetta Stone's sales increased by 20% annually, according to Daily News-Record archives.
"When the dot-com bubble burst in the late '90s, we didn't even notice," Eugene Stoltzfus said. "It just so happened we had something we were offering to schools and language learners that wasn't affected by that."
The working relationship between the Stoltzfus brothers was vital to Rosetta Stone's success at the time, according to one of the company's earliest employees, Greg Keim, now 51, of Broadway. Allen Stoltzfus died on Sept. 30, 2002, at the age of 59.
Keim said the brothers' contrasting priorities benefited the company, as it needed to not only ship a product in a timely manner, but one that is of good quality and what people want to buy.
"Allen and Eugene, they embodied that tension in two different people," Keim said.
Allen Stoltzfus was focused on getting the product out, while Eugene had a "ship art" mentality, according to Keim.
"It was important in Rosetta Stone to have the two of them — it has to be high quality and it has to ship," he said.
Local Rosetta Stone employees have been laid off, according to Brian Shull, city economic de…
The Rise
After Allen's death, Rosetta Stone carried on, and by 2005, the language-learning software was used in 150 countries, with the international market making up 15% of total sales. That same year, the company won its first military contract, supplying the U.S. Army for $4.2 million.
Keim said the company's products were successful because of the unique angle it took to language learning.
"The reason it was an innovative solution was kind of because [the Stoltzfuses and Fairfield] were language learners, not language experts," he said, which freed them to take unexplored approaches.
The next year, 2006, was a busy one. Rosetta Stone was named one of the Top 500 fastest growing companies in Inc. Magazine as revenue grew 100% from the year prior, when the company reached $45 million in sales.
The shipping facility was moved to Early Drive and 50 more people were hired locally, 20 for work at the shipping center. At the time, there were 430 employees worldwide, including 230 in Harrisonburg.
"It was kind of a flowering of the local colleges and" James Madison University, Fairfield said. "There were resources in this community that made it possible to [operate] world-class tech in little old Harrisonburg."
Around that time, the founders came to realize its sale could take it to the next level. Though the family could see continued success and growth independently, they decided to sell after receiving an offer from an unexpected potential buyer.
"We had an inquiry from the BBC about acquiring the company, and we weren't ready," Eugene Stoltzfus said.
Nine months of getting records together to properly engage in talks later, the BBC had to pull away due to internal issues, according to Stoltzfus. The owners still believed selling the firm was the right decision, and in January 2006, they sold it to investors and bowed out of operational control, though many in the leadership team stayed on, such as CEO Tom Adams.
The growth continued. Revenue grew by 30% in 2007 and the company had nearly 800 employees.
The company drew those workers from a variety of disciplines, according to Keim.
"That sort of interesting mix of creatives from a wide variety of backgrounds, technical and language, art and design — a lot of people working to find interesting and creative solutions. That was always the magical part of the company," Keim said.
Rosetta Stone began gearing up for stock market entry, hoping for $115 million in its initial public offering.
That year marked $137.2 million in sales — an annual compound growth rate of 73% in barely over a half a decade since $15.5 million in sales in 2001.
Even the Great Recession could not blunt Rosetta Stone's ascension. When the company went public in 2009, share price peaked at $32 compared to its $18-a-share IPO.
Language-learning software company Rosetta Stone announced Monday that it is being acquired …
Local Impact
And the success of Rosetta Stone was seen throughout Harrisonburg. The company had acquired multiple buildings, including the former police station at 181 S. Liberty St., and transformed them into offices for its burgeoning staff.
"We were very much aware we were bringing hundreds of people downtown, and we knew from the beginning we wanted to be downtown," Stoltzfus said.
Even as the headquarters had been moved to Arlington, the company had to start moving employees into the Wetsel Seed Building during the late summer 2010 as it was in the process of adding roughly 150 in a year and a half, too many to fit into the former police station and former Wetsel Seed warehouse.
At that time, Rosetta Stone had 1,950 worldwide employees, including 517 in Harrisonburg.
Employees would walk the nearby streets, helping revitalize downtown. Rosetta Stone's jobs also helped retain talent from the area universities, according to Brian Shull, Harrisonburg's economic development director.
"They were the rising star for us, and we certainly did make them our poster child for tech development in the city," he said.
Shull said Rosetta Stone's presence helped draw other tech firms and entrepreneurs.
"I'm sure that Rosetta Stone was part of making it believable that people could start up a software company in Harrisonburg. And there's a fair number of startups now, and it's a little bit of a tech hub," Stoltzfus said.
But just as fast as the company rose, it began to falter.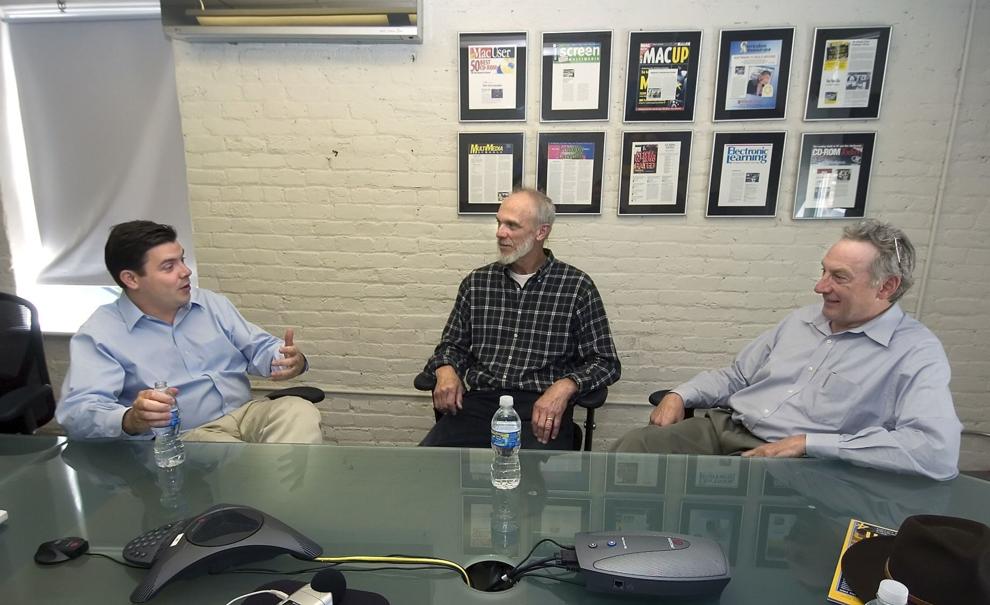 The Decline
In 2011, Rosetta Stone's stock plunged 46%. Then-CEO Tom Adams said it was due to the soft U.S. consumer market.
The next year, layoffs began in what would become a constant tool in the firm's efforts to maintain operations.
Layoffs from Rosetta Stone became a shared destiny for many workers.
In March 2012, roughly three dozen local workers were informed they would be losing their jobs in the company's first such announcement to employees. The next March, 48 local jobs were lost and 13 more positions cut in June.
By January 2014, Rosetta Stone employed 300 workers in Harrisonburg — down roughly 200 local positions in four years. That year, the company finished $73.7 million in the red.
The year 2015 brought more "restructuring," according to Rosetta Stone leadership at the time, as 15% of global positions were shed.
In early 2017, the company turned its first quarterly profit in five years, but it was still in the red, and the Rockingham County distribution center closed. Its stock continued to tumble.
Last year, Rosetta Stone was removed from the stock market as it was sold to Cambium Learning Group, trading hands again half a year later, as Cambium sold Rosetta Stone to IXL Learning in March.
Rosetta Stone employees were informed of the most recent round of layoffs, which included 64 employees in Harrisonburg and 97 in Arlington, last month, bringing local employment numbers to roughly 100, according to Shull.
A representative of IXL Learning could not be reached for comment Thursday about the future of Rosetta Stone.
In previous interviews, an IXL spokesperson has said the company is continuing to evaluate how to incorporate the Harrisonburg office into future plans.
Fairfield said it is "difficult" to watch the layoffs, but the company's presence in the city helped to create the local tech sector.
"Regardless of what happens to Rosetta Stone, that will stay. Harrisonburg as a technology place where things happen is established and is no longer dependent on Rosetta Stone," he said.
Stoltzfus said the contributions the company and staff made to worldwide language learning, downtown Harrisonburg and the futures of employees themselves is something he can hang his hat on.
"It was a wonderful experience," he said, "and a big adventure."