BROADWAY — Sitting in an empty conference room inside the company his father built, Brent Trumbo's eyes began to take on a glassy appearance as he talked about his departure from Trumbo Electric.
"I've been here longer than I have been married to my wife, Judith," he said.
In his office, a line of picture frames fill a shelf behind his desk — one that is covered with stacks of paper and coffee mugs.
But in the remaining months of the year, the drawers in Trumbo's desk where his father, Novell Trumbo, used to work during his time with the company, and the family portraits will soon be removed and emptied as Brent Trumbo retires from the company after 46 years.
"It's an end of an era," he said.
Since its founding in 1948, a member of the Trumbo family has overseen the company's success — first with Novell Trumbo and later Brent Trumbo.
Trumbo admitted he never envisioned that one day he would take over his father's company and serve as its president and CEO for the last 34 years, but knew the possibility could present itself one day.
"When you're in your 20s, you don't know what life has in store," he said. "I mean, I clearly thought that [taking over the company] was a possibility, but that was not necessarily in the plan at that time. I think dad and I were both feeling our way through this to make sure he was comfortable with me and vice versa."
Trumbo began his career at Trumbo Electric in 1974 working part-time as an electrician's helper and warehouse assistant. His interest for the industry sparked while attending Broadway High School, where he did field electrical work.
While attending Goshen College in Indiana, he continued working in the field as an electrician and gained experience doing industrial and institutional work, while also pursuing a degree in business.
After graduating with a bachelor's in business, Trumbo moved back home and started working full-time at Trumbo Electric. At the same time, he also was working on earning a master's in business from James Madison University.
"It all seemed like a natural fit," he said, when talking about his decision to work full-time at the company.
"Dad and I had a good working relationship and I have a tremendous amount of respect for everything he did here."
Given the nearly 50 years Trumbo spent with the company, he was able to see it evolve into what his father had envisioned more than 70 years ago.
"Dad was a real visionary, he did some things that were light years ahead of its time," Trumbo said.
In 1961, Trumbo said his father decided to fully integrate electrical contracting and electrical engineering into one company and therefore became the first Virginia contractor to employ engineers.
While unheard of in its day, Trumbo Electric began to hire professional engineers and currently remains as one of the only contractors in the western part of the state that employs licensed professional engineers.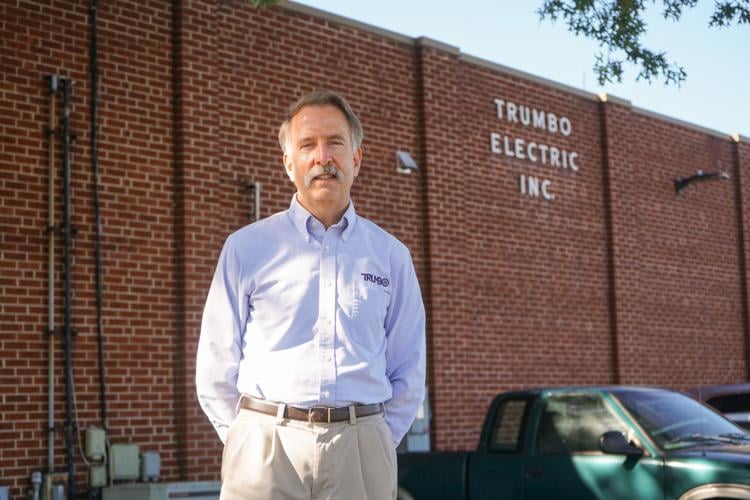 "That's all credit to dad, that was all dad's vision," Trumbo said.
With Trumbo the only sibling of three to take on the family business, he admitted taking on the role as president left him with big shoes to fill — shoes he said he didn't measure up to.
At the same time, however, Trumbo was able to leave his mark on the company in a different way as he helped share the success of the business with its employees.
Trumbo said one of the visions he had when he started working at Trumbo Electric was to make employees stake holders so "not just the owner would share the wealth."
"When I started, we delivered a very aggressive performance incentive program and paid year-end bonuses to our employees, and the sum total of those bonuses since I started here is significantly more than total market value of Trumbo Electric, and I am very proud of that," he said.
Trumbo said in some years the amount of money given back in bonuses were 50% of total profits the company received in a given year, adding those profits would have never happened without employees.
"Those folks are what made the money," he said. "It wasn't one or two people that did that, it was a team effort."
Trumbo Electric brings in an average of $20 million to Rockingham County's economy and has provided for "many livelihoods," according to Trumbo. Currently, the company is involved with JMU's new arena — the Atlantic Union Bank Center — and College of Business.
With those projects coming to a close, so will Trumbo's time at Trumbo Electric.
"It's already emotional," he said. "I started to clean out my office and some of that stuff is dad's, so it's hard not to get emotional."
When it comes to what's next for Trumbo Electric, Trumbo said a plan had been in the works for several years and the company has been sold to Comfort Systems USA, a heating, ventilation and air conditioning company.
Trumbo said Comfort Systems USA is a publicly traded firm on the New York Stock Exchange and part of the company's model is to have the companies run independently, meaning Trumbo Electric's new management team has already been with the company for more than 10 years.
"There's no outsiders that have come in to this company and that was one of the reasons we decided to go this route," he said. "We felt we could maintain our culture, our values and our identity by going with Comfort Systems."
Trumbo said he feels "extremely confident" in the new team's ability to take his place and is looking forward to spending his retirement doing volunteer work.
"I want to start giving back to the community," he said.
It was the desire to give back that led Trumbo to applying for the Rockingham County Board of Supervisors District 1 seat that was left vacant when Pablo Cuevas retired in 2019. Trumbo will have served one year on the board before stepping aside to allow a new candidate to take over the helm after the November election.
The only candidate running for the seat is Dewey Ritchie, who served 39 years as a deputy sheriff in Rockingham County. If elected, Ritchie will serve the remainder of Cuevas' term through Dec. 31, 2021.
"I have been a benefactor of being here all of my life. I've grown up in this area all my life and I'd like to make the final years of my life a way to support and do volunteer work," Trumbo said.