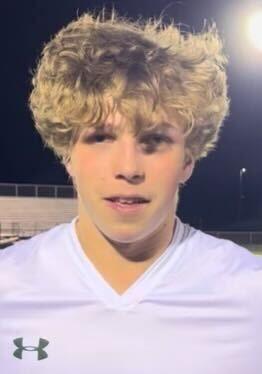 BRIDGEWATER — Wilson Memorial has come up short for the past two seasons against Turner Ashby.
Green Hornets head coach Scott Harrison said his team was extra motivated to take down the Knights, and that drive led them to success as they defeated TA 1-0 on Thursday in non-district action at TAHS.
"[This] is going to be confidence for us," Harrison said. "We've come close, and this year, they really wanted it. It'll be a good confidence booster."
Sophomore standout Vincent LaGrua scored the match's lone goal with a stunning strike in the first half, and his head coach was left speechless at how the sophomore set up the score.
"[Vincent] had to work for that," Harrison said. "That was pure effort. I can't say anything else. Pure effort, good speed, good quickness off the ball. He kept from misjudging and shot it far post, so it was great. It was a nice shot."
LaGrua thought they played aggressively against TA and made quality passes, something he wants to continue throughout the season.
He gave insight into how he set up the only goal, ultimately serving as the game-winner in the low-scoring game.
"I just ran at the defender, hit him off the ball and shot it," LaGrua said.
Turner Ashby head coach Luke Davies felt they could've executed better in the game's final third but admitted there were other areas he was pleased with in such an early-season battle.
"We dominated in all other areas of the pitch," Davies said. "[Except] in the final third, that's where it counts."
Davies felt perhaps a key was the number of seniors Wilson Memorial has, compared to how many freshmen TA (0-1) has — adding that there's a significant difference in an 18-year-old playing against a 15-year-old.
"We played well and this game made me realize the potential we have," Knights senior Alex Maust said. "We just have to keep putting in the work."
Davies noted they have a young team again full of sophomores, but he's confident that the team bond will help them improve throughout the year.
"The team chemistry is great, because they came up through the JV program all together," Davies said. "They'll put it all together, and it might take us a couple of more games. Credit to Wilson Memorial, they defended well and they had some big guys."
For Wilson Memorial (1-0), Harrison is happy to see the seniors take the younger guys under their wing and has noticed they lead in practice.
"They're teaching each other," Harrison said. "I have five seniors that, literally, each and every one of them could be a captain. With all five of those guys being leaders like they are, the team's clicking better than I had anticipated."