PENN LAIRD — When Alana Taylor and Alana Fisher look in the mirror, they could admit they, in some ways, still see themselves as the baby-faced youngsters attending Spotswood girls basketball clinics as kids.
"It's been crazy," said Taylor, now a freshman at SHS. "Since I was little, I always came to the clinics, and we'd hang with the older girls and learn their drills and stuff. Just coming out here and being able to play is special. My first game, I came out and was like, 'Wow. This is great.'"
Although the first-year high school students may be in disbelief, their coaches and teammates see something else when looking at the two.
"They both have a lot of potential," Trailblazers sophomore point guard Madison Doss said about the duo. "They both work hard, they're both all-around players. They both can do it all."
Taylor, a 5-foot-5 guard, and Fisher, a 5-foot-7 wing, are both in the midst of their freshmen debuts on the varsity level.
Despite their inexperience and nervousness as they started their high school careers, the duo has managed to make quite a splash, which has been vital to Spotswood's success this season.
"I've enjoyed it, but it's been a little nerve-racking," the soft-spoken Fisher said. "It's a new environment. It's a lot faster. The competition is better. I play AAU with older girls over the summer, though, so I am kind of used to it."
Taylor has been one of the most efficient players for the Trailblazers, averaging eight points per game and shooting 50 percent from the field (29-of-56) so far this season.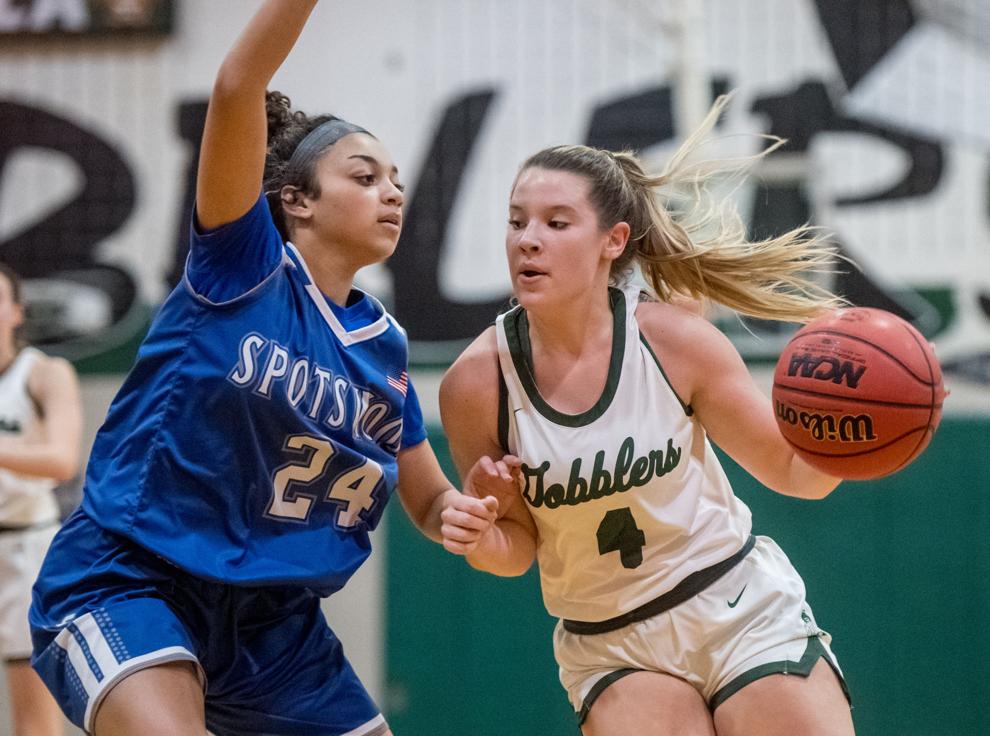 Despite standing just 5-5, Taylor also averages 2.8 boards, 1.6 steals, and 1.3 assists per game.
"She's definitely going to be a special one," Dodson said. "She can score from anywhere and continues to work on fully understanding game plans at both ends of the court."
Fisher, meanwhile, is already drawing similar comparisons to senior wing Zoli Khalil.
That's not to equate the shy, reserved freshman to the level of a Division I signee this early in her career, but her first-year importance to her team is similar to how Dodson viewed Khalil when she first entered the program.
Fisher also shoots 50 percent from the field and averages 2.1 points per game. She also grabs 1.8 rebounds each night and has 12 assists and nine total seals on the year in 17 games.
"Alana Fisher is a freak of nature athletically at both ends of the court," Dodson said. "She's a kid we can put on almost anybody, and she can defend them. Really, she's the key to us competing for a state championship down the road. She really gives us depth, and gives us some scoring. She's another kid that can really be a glue kid for us as we move forward."
Dodson's praise for his two freshmen doesn't come without pressure.
The veteran six-time state champion head coach is known for pushing players early in their careers, but his track record of sending players to the next level certainly speaks for itself.
And while Taylor and Fisher may struggle with believing in themselves, no one else in Penn Laird is.
I see that confidence in both of them," Doss said. "They have that hunger. Maybe it's just because it was me last year, but I don't see that deer-in-the-headlights look with them. They step up to the occasion and do what they're asked to do."