ShenValley7 Week 3
| Rank | Team | Record |
| --- | --- | --- |
| 1. | Spotswood (10) | 2-0 |
| 2. | Riverheads | 2-0 |
| t3. | Strasburg | 2-0 |
| t3. | Clarke County | 1-0 |
| 5. | Luray | 2-0 |
| 6. | East Rock | 0-1 |
| t7. | Rockbridge County | 1-1 |
| t7. | Turner Ashby | 2-0 |
(First-place votes in parenthesis)
Also receiving votes: Central.
Who Votes: Cody Elliott (DN-R writer), Greg Madia (DN-R writer), Shane Mettlen (DN-R writer), Jim Sacco (DN-R sports editor), T.J. Eck (sports director, WHSV), Alex Flum (sports anchor, WHSV), Scott Lowe (Newsradio WKCY), Dan Joyce (Newsradio WKCY), Mario Retrosi (Harrisonburg Radio Group), Brian Shifflett (Harrisonburg Radio Group).
---
---
PREDICTIONS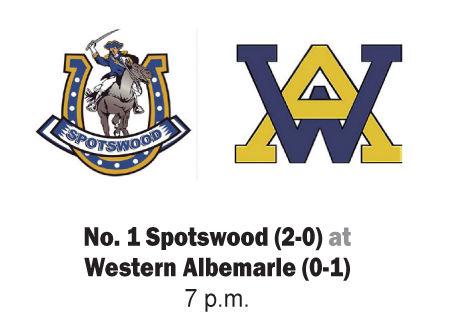 Last Meeting: Spotswood 29, Western Albemarle 13 (Sept. 9, 2016 in Penn Laird)
Western Albemarle last week: Turner Ashby 48, Western Albemarle 26
Spotswood last week: Spotswood 75, William Monroe 13
Notes: Western Albemarle has reached the playoffs in seven of eight seasons under coach Ed Redmond. … Warriors quarterback Carter Shifflett finished with 170 total yards and three touchdowns in last week's loss to Turner Ashby. … Western finished with just 107 rushing yards in the loss. … Warriors receiver Breaker Mendenhall, the son of U.Va football coach Bronco Mendenhall, had four catches for 64 yards and a touchdown in last week's loss. … Western's defense gave up over 525 total yards of offense in the loss to the Knights. … The Warriors haven't lost two in a row to open up a season since 2002. … Spotswood is looking to start 3-0 for the first time since 2009. … SHS quarterback Ryan High completed 9-of-13 passes for 370 yards and a career-high six touchdowns before exiting in the third quarter of last week's 75-13 rout of William Monroe. … Rob Smith finished with five total touchdowns (four receiving, one kickoff return) in the win for the Trailblazers. … Spotswood running back Ethan Barnhart leads the Valley District with 435 yards rushing (9.9 YPC) and four touchdowns. … The Trailblazers are giving up just 12.5 points per game. … Spotswood has won 11-straight regular-season games.
Prediction: Spotswood 42, Western Albemarle 20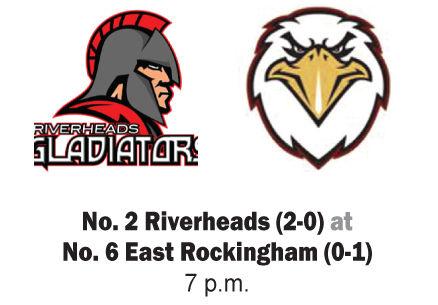 Last Meeting: East Rockingham 28, Riverheads 0 (Sept. 13, 2018 in Elkton)
East Rockingham last week: Bye
Riverheads last week: Riverheads 38, Glenvar 21
Notes: Last year's 28-0 win over Riverheads in Elkton was East Rockingham's first victory over the Gladiators in program history. … The Eagles have only opened the season 0-2 twice since 2010. … ERHS senior running back Trenton Morris carried the load offensively in the Eagles' 20-12 Week 1 loss to Spotswood, finishing with 19 carries for 131 yards and a score and two catches for 18 yards and another touchdowns. … East Rock quarterback Tyce McNair had 140 yards of total offense and one touchdown toss in his first start. … The Eagles gave up 370 rushing yards in their season-opening loss to the Trailblazers. … East Rockingham has reached the playoffs eight straight seasons. … Riverheads has won six state championships under veteran coach Robert Casto, including the last three Virginia High School League Class 1 titles. … The Gladiators have won at least 10 games every season since 2008. … Riverheads running back Zac Smiley leads the Shenandoah District with 356 yards rushing and five touchdowns. … Gladiators freshman quarterback Bennett Dunlap will earn his third-career start tonight, but has attempted just three passes this season. … Riverheads has four players with over 60 yards rushing this season. … The Gladiators are on a 13-game winning streak with their last loss coming to East Rock a year ago.
Prediction: Riverheads 31, East Rockingham 24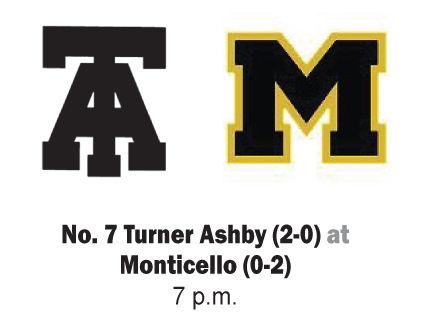 Last Meeting: Turner Ashby 32, Monticello 25 (Sept. 7, 2018 in Bridgewater)
Monticello last week: Culpeper County 30, Monticello 6
Turner Ashby last week: Turner Ashby 48, Western Albemarle 26
Notes: Monticello hasn't lost three-straight games to start a season since 1999. … Mustangs quarterback Malachi Fields is one of the best dual-threat signal-callers in the Jefferson District and accounted for nearly 300 yards of total offense in last week's loss to Culpeper County. … Will Trent leads Monticello with seven catches for 58 yards and a score this season while Tony Frazier has two catches for 78 yards. … The Mustangs committed six turnovers in last week's loss to the Blue Devils. … Monticello is giving up 32.5 points per game this season. … The Mustangs have won seven of eight over the Knights with TA snapping a seven-game losing skid in the series with last year's 32-25 overtime victory. … Turner Ashby is 2-0 for the first time since winning three in a row to open up the 2010 season. … Knights first-year quarterback C.J. Haskins has completed 18-of-31 passes for 293 yards and a pair of scores and has also rushed for 130 more yards and three touchdowns. … TA running back Grant Swinehart ranks second in the Valley District with 40 carries for 311 yards and three scores. … The Knights are giving up just 14 points per game after giving up 41.3 during the first two seasons under coach Chris Fraser. … TA is averaging 449.0 yards per game on offense while giving up just 193.5 yards per game defensively. … The Knights haven't won more than two non-district games in a season since 2009.
Prediction: Turner Ashby 45, Monticello 21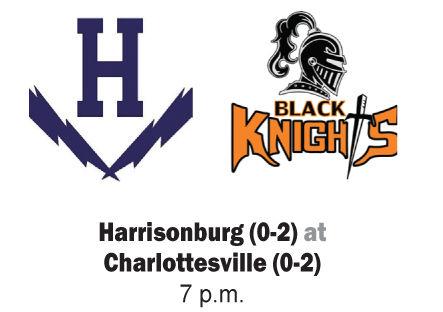 Last Meeting: Harrisonburg 59, Charlottesville 28 (Sept. 7, 2018 in Harrisonburg)
Charlottesville last week: James Monroe 43, Charlottesville 7
Harrisonburg last week: John Handley 31, Harrisonburg 13
Notes: Charlottesville has lost 12 out of its last 13 games dating back to the 2017 season. … Black Knights quarterback Tamarius Washington left last week's loss to James Monroe in the second quarter with a lower-body injury and is not expected to play tonight. … Isaiah Washington filled in last week at quarterback and was effective running Charlottesville's triple-option attack. … Fullback Jaleom Adams-Mallory has the only touchdowns this season for the Knights. … Charlottesville has been outscored 101-7 so far this year. … The Knights have won three of their past four meetings against Harrisonburg, but lost 59-28 on the road. … Harrisonburg hasn't lost three in a row to open up a season since 2014. … HHS quarterback Kwentin Smiley has both touchdowns for the Blue Streaks this season. … Harrisonburg is giving up 41.5 points per game so far this season, which would be the most by the Streaks under coach Chris Thurman. … HHS committed seven turnovers in last week's loss to Handley. … The Streaks have just two non-district wins in the past three seasons with one of them coming last year against Charlottesville. … Harrisonburg scored a season-high 59 points in last year's win over the Knights.
Prediction: Harrisonburg 35, Charlottesville 28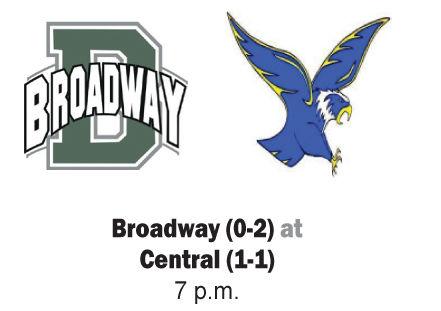 Last Meeting: Broadway 21, Central 7 (Aug. 26, 2011 in Broadway)
Central last week: Central 55, Stonewall Jackson 8
Broadway last week: Skyline 32, Broadway 7
Notes: Central has been to the playoffs four straight times and seven of the last eight seasons. … Falcons first-year quarterback Kelan Hoover has completed 21-of-36 passes for 310 yards, three touchdowns and an interception. … CHS running back Alex Neff (21 carries for 104 yards and a score) gets a majority of the carries out of the backfield. … Brevin Scott leads Central with seven catches for 92 yards and a score while Kamren Wells has big-play potential with three receptions for 72 yards and a touchdowns. … Gerso Sorto-Lopez, a linebacker, leads Central with 25 total tackles and a sack through the first two games. … The Falcons have lost 10 straight to Valley District opponents with their last victory coming in a 21-14 win over the Gobblers on Oct. 13, 2000. … Broadway has started 0-3 every season since 2016. … The Gobblers are averaging just 63.5 rushing yards per game. … BHS first-year quarterback Cole Hoover is 28-for-59 passing for 359 yards, a touchdown and two interceptions. … Slot receiver David Thew has 162 yards of total offense and a score for the Gobblers. … Six-foot-3 receiver Nate Tinnell leads Broadway with 10 catches for 165 yards. … Timothy Lapp leads Broadway with 16 total tackles and a 30-yard fumble return for a touchdown this season.
Prediction: Central 31, Broadway 14